---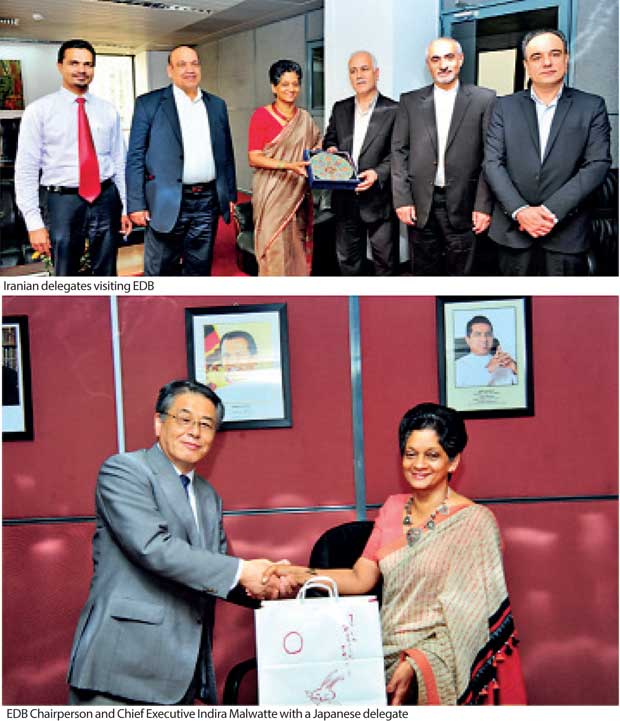 A delegation from the Nagano Employers' Association in Nagano Prefecture, Japan visited the Sri Lanka Export Development Board (EDB) with the objective of increasing awareness on Sri Lankan key export products and services.

The delegation was led by Hachijuni Bank Ltd Chairman and Nagano Employers' Association Representative Yoshiyuki Yamaura and Fujikoshi Machinery Corporation President/CEO and Nagano Employers' Association Deputy Representative Koichiro Ichikawa.

There were 17 delegates representing sectors viz. constructions, electronic and electricals, machinery and equipment, broadcasting services, petroleum products, fine ceramics, moulding aluminum, labour saving equipment, dry foods, geological and environmental survey, airline, etc. and the Japanese government institutions such as Nagano Economic Research Institute, Nagano Techno Foundation and Nagano Prefectural Government Industry and Labor Department.

EDB Chairperson and Chief Executive Indira Malwatte chaired the meeting and the EDB officers who expertise with the respective product sectors discussed the opportunities and the potentials of increasing trade between the two countries.

The product sectors viz. electrical and electronics, rubber-based products, tea, coconut-based products and services viz. constructions, ICT/BPO were the more focused sectors during the discussion. Both parties agreed to take measures to enhance trade relationship between Sri Lanka and Japan, especially with the business community in the Nagano prefecture.

The delegation is interested in starting import, export businesses as well as investment, especially technology transfer via starting joint ventures with the Sri Lankan business community. In the way forward, the EDB is planning to organise an inward delegation from Japan in the third quarter of the year 2018.

The meeting was coordinated by the Japan External Trade Organisation (JETRO) in Colombo, the Japanese government-related organisation that works to promote mutual trade and investment between Japan and the rest of the world. Resident Representative Kazuhiko Obama and Chief Director Akiko Okumura represented the JETRO.

A four-member Iranian delegation also visited the EDB to discuss the potential of re-exporting dehydrated grapes to the Middle Eastern market.

Malwatte expressed the conducive business environment prevailing in Sri Lanka for investments and re-exports. Further, she stated that two free trade agreements (FTA) Sri Lanka has with and several FTAs which are under discussion stage with Asian countries. Thereby Sri Lanka is becoming a centrally located strategic hub for re-exports and investments.

The delegates wished to establish a joint venture partnership with a Sri Lankan packaging plant as the initial step to pack the dehydrated grapes. They also showed interest in Ceylon Tea and rubber-based products.