---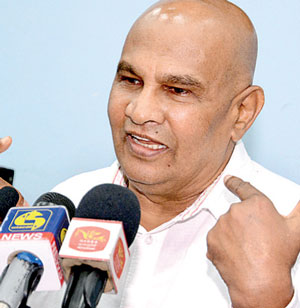 By Shabiya Ali Ahlam
The Northern Province is slated to receive fresh boost as it is gearing up to kick-off an investment forum coming Monday (22nd August) to showcase its potential and the opportunities it has to offer.
While the primary objective of the event is to enhance the lives of the people who have suffered from the 30-year conflict, the 'Investor Forum 2016 Northern Province' aims to encourage the Tamil diaspora to participate in the region's growth story.

For that reason, the forum has been scheduled to take place simultaneous to the Nallur festival season according to authorities.
The forum will be graced by top officials including President Maithripala Sirisena, Prime Minister Ranil Wickremesinghe and Central Bank Governor Indrajit Coomaraswamy.
Addressing journalists in Colombo yesterday, Northern Province Governor Reginald Cooray said the forum is being held to create awareness since a common complaint from potential investors is the lack of relevant and reliable information to set up ventures in the province.

"The Northern Province, Jaffna in particular, is regarded a very difficult place to live because of the high temperature, and less access to safe drinking water.
But there are ample opportunities to invest, lots of untapped potential. Many have expressed their willingness to invest in the North but are reluctant to do so due to lack of proper information," Cooray said.
Stressing that problems of the North are not over even after resettlement, he stressed it is essential to focus on providing employment opportunities, for which industries that were previously shutdown due to the conflict are required to be restarted alongside establishing new ventures.

"Reconciliation is always connected to the development. If the people remain poor I don't think reconciliation will be successful. So we have to take speedy steps to provide employment to people in Northern Province," he said while pointing out that unemployment remains a "big problem" in the region with 15,000 yet to be resettled.
According to the Governor, the ideal route to get about the endeavor is via public private partnerships, where the authority will remain with the government and management with the private sector.
"If the two are united then we can do a lot"," said Cooray confidently.

In an effort to reduce red tape, the Northern Province authorities have set up, a 'one-stop shop' that is modeled after the procedure followed by Board of Investment (BOI).
The Northern Province comprises of a total of 16 BOI projects established with a cumulative investment value of Rs.16, 466 million, creating 4,499 jobs. Awaiting commercial operations are five projects in the areas of hospitality, manufacturing and food processing with an investment value of Rs. 1,633 million in total. The projects are expected to generate 1069 employment opportunities.
Meanwhile awaiting implementation are six projects with a proposed investment value of Rs. 3315 million, creating 939.

Mirror Business learns that awaiting approval is a mega hospitality project where a proposal to establish a 1,054-room hotel in Mandaitivu. The investment value for the said project is said to be Rs.38, 038 million and a total of 650 jobs are expected to be created.