---
AFP: India's Tata Sons dumped Cyrus Mistry as its Chairman in a surprise announcement yesterday, almost four years after his appointment as the first chief of the conglomerate from outside the Tata family.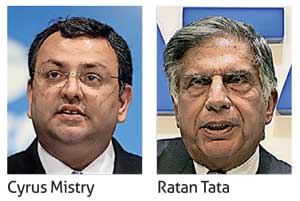 "Tata Sons today announced that its Board has replaced Cyrus P. Mistry as Chairman of Tata Sons. The decision was taken at a board meeting held here today," the company said in a statement.
Tata Sons is the holding company of the sprawling tea-to-steel Tata Group, which spans more than 100 companies in as many countries.The conglomerate said industrialist Ratan Tata, 78, had been appointed Interim Chairman until a successor was appointed. The search was likely to take four months, the
statement said.
Tata Group is arguably India's most famous family conglomerate.

Its companies include one of India's largest IT firms, Tata Consultancy Services, the biggest vehicle maker, Tata Motors, and a ritzy hotel chain including Mumbai's Taj Mahal palace hotel. But the group's revenue slipped 4.6 percent for the financial year ended March to about US $ 103 billion, hurt by global economic uncertainty, a crash in commodity prices and volatility in currencies, according to Bloomberg News. And it is currently trying to sell its loss-making British steel assets.

Mistry succeeded Ratan Tata in December 2012 after being announced as its heir more than a year earlier. A string of deals since the turn of the millennium saw the group snap up a clutch of famous names including Tetley Tea, luxury car maker Jaguar Land Rover and
steelmaker Corus.

The Mumbai-based Tata brands factor daily in the lives of Indians, with products ranging from salt to trucks to watches.

The group founded under British colonial rule in 1868 has hit headwinds of late however, with lacklustre performances at several companies including Tata Motors, Tata Power and Tata Steel. Ratan Tata, who took over as Chairman of Tata Sons in 1991, is credited with building it into a global behemoth.