---
Says more equity plans in the pipeline
Several major projects lined up to be launched in 2020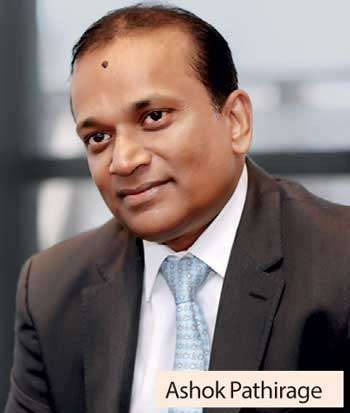 The top line growth across major business sectors led by retail and healthcare and the tight cost controls helped Softlogic Holdings PLC to report better operating profits for the quarter ended March (4Q18), as the group began de-leveraging its balance sheet, swapping its high-cost bank borrowings with equity.

The borrowings made during when debt was cheap started weighing heavily on the group profits at Softlogic as the borrowing cost rose from 2016 onwards.
The group for the January-March quarter reported Rs.16.6 billion in revenue, up 18 percent year-on-year (YoY).
The top line growth was led by the retail segment with revenues of Rs.5.3 billion, up from Rs.4.3 billion a year ago and the healthcare business with revenues of Rs.3.0 billion, up from Rs.2.8 billion.

However, the retail sector operating profits declined to Rs.226.5 million from Rs.320.4 million a year ago while the healthcare profits rose to Rs.638.4 million from
Rs.586.9 million.

Softlogic has several projects in the pipeline, which are awaiting commercial operations during the next two years.

Odel is awaiting the opening of 51,000 square feet new mall in the Colombo City Centre this August while another mall with 100,000 square feet will open at One Galle Face at Shangri La in 2019.

The Odel Mall project, which is being constructed at Alexandra Place, will also be opened in 2020.

Meanwhile, the 180-bed Asiri Hospital in Kandy is also slated to open in early 2019.

The group also has interests in information technology, leisure and property, automobiles and financial services.

The group operating profits improved by 76 percent YoY to Rs.1.4 billion mainly due to cost discipline.

As part of their deleveraging, Softlogic raised Rs.3.1 billion from Samena Capital, a Middle Eastern investor via a private placement in return for a 19 percent stake.
In April the group raised another Rs.3.9 billion from a rights issue.

"There are other equity plans in the pipeline for the core verticals, and with this in mind, the group will make its footprint across its various businesses to become unrivalled in the industry", Softlogic said in an earnings release.

Softlogic in March restructured its retail business under a new entity established Softlogic Retail Holdings Private Limited and brought in all its retail businesses including Odel and restaurants under the new entity.

Meanwhile, the group financial services sector comprising of Softlogic Life,Softlogic Finance and the group's stock broking business, made a top line of Rs.3.0 billion, up from Rs.2.2 billion, and an operating profit of Rs.417 million from Rs.110 million in the corresponding period last year.

The leisure and property segment, although the revenue was increased to Rs.846.4 million from Rs.543.2 million, the segment made an operating loss of Rs.116.1million.

Group's Movenpick city hotel in Colombo completed one year in operations and the company said occupancy levels remained strong during Winter-peak and is outpacing growth of its counterpart in the city. "We reckon that many challenges need to be addressed in the macro economy for the leisure sector to benefit from its capital-intensive investment,"Softlogic said.

Group's information technology business revenue remained virtually flat across the two quarters at Rs.3.9 billion but the operating profit jumped to Rs.339.6 million from Rs.112 million a year earlier.

Meanwhile for the quarter, the group earned a net profit of 2 cents a share or Rs.14.4 million against a loss per share of 42 cents or Rs.324.9 million loss.

For the full year ended March 31, 2018, the group earned 41 cents a share against 3 cents a share from a total profit of Rs.321.3 million.

The total group revenues rose by 12 percent YoY to Rs.66 billion.

Ashok Pathirage, Softlogic group Chairman and Managing Director, owns 39.95 percent stake in the group.