---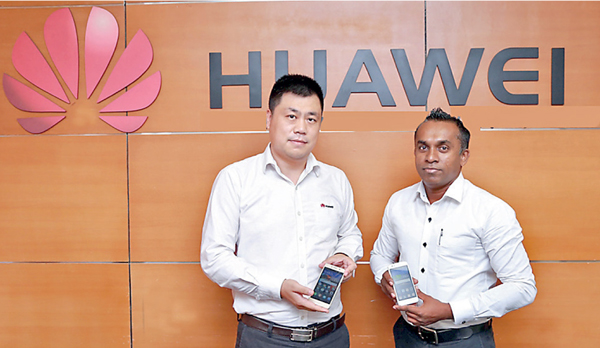 From left: Huawei Device Sri Lanka Country Head Henry Liu and Marketing Manager Ruwan Gamage introducing the new Huawei Y3II and Y5II to Sri Lanka
Huawei, the fastest growing smartphone in Sri Lanka, announced the launch of two new entry level smartphones in Sri Lanka Y3II and Y5II from the Y Generation family of smartphones. The Y5II both 3G and 4G version is available from Rs.14,199 and Rs.15,999 while the Y3II is available for Rs.10,999 in 3G.

Both the devices come with a unique feature tagged 'Easy Key', which is a function that gives the user a shorter path to his favourite content with a simple press, double –press or press – and- hold. The Y3II device sports a feature named 'Rainbow Light'; it lights up when one gets a call, communicating alerts and notification in vibrant colour around the rear camera. The Y5 II front camera comes with a flash adding a new dimension for selfies. Both the devices are available in Black and Gold colours backed by a one year Singer warranty.

Huawei Y3 II features a smaller 4.5-inch FWVGA screen as compared to Y5 II that comes with a 5-inch HD display. The smartphones run Android 5.1 Lollipop on top of EMUI 3.1. While the Y3 II 3G is powered by quad-core MediaTek MT6582M SoC processor, clocked at 1GHz.

Speaking about the new products introduced, Huawei Device Sri Lanka Country Head Henry Liu explained, "We are happy to announce that as per the data from GFK one of the largest market research organisations in the world, Huawei shows an increase of 23.30 percent market share in 1Q 2016 in Sri Lanka. Our key to success has been the continuous research and development (R&D) and introducing disruptive products, which are of greater quality for a reasonable price.

The Huawei brand is accessible to each and every Sri Lankan through a strong partnership with our national distributor Singer Sri Lanka. We are pleased to once again introduce two affordable products, as we strengthen our product portfolio offering the best for our consumers across the island."
Huawei Y5 II 3G is powered by 1.3GHz quad-core MediaTek MT6582 SoC processor and Y5 II 4G packs 1.3GHz quad-core MediaTek MT6735P SoC processor under the hood. The smartphones pack 1 GB RAM and 8 GB ROM, with expandable memory support.

Huawei Device Sri Lanka Marketing Manager Ruwan Gamage stated, "Huawei has the right product for different types of consumers, including advance technology, innovation, strong functionality and outstanding features for the best price. Huawei is becoming a popular smartphone brand among Sri Lankan consumers, presently it is the number two smartphone brand in the island. The establishment of an emotional connection between the brand and its users and our strong support and distribution through Singer make the brand complete."

Huawei Y3 II sports a five megapixel primary camera and two megapixel front camera. The Y5 II comes with an eight megpixel rear camera and two megapixel front camera with flash. The Huawei Y3 II and Y5 II are backed by 2,100 mAh and 2,200 mAh battery, respectively. Sri Lanka's number one smartphone marketer Singer Sri Lanka will ensure the availability of these products through the country's largest retail network Singer, including Singer Mega, Singer Plus and SISIL World stores, comprising of over 400 retail outlets and Singer's digital media channel that serves 1500 digital media outlets across the country.