---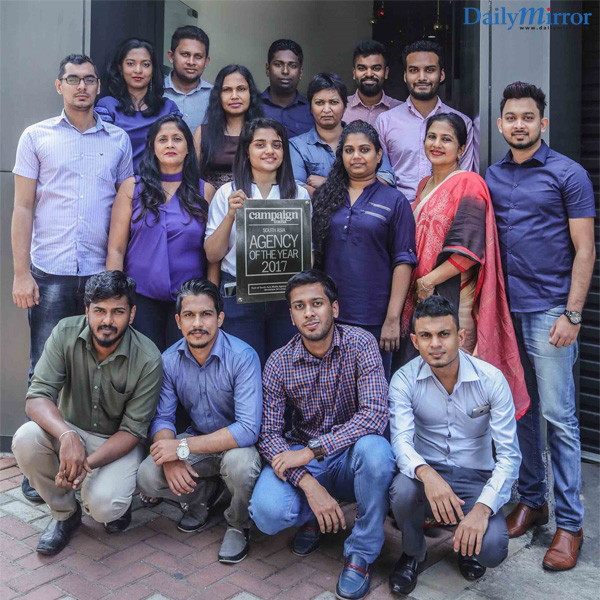 GroupM Sri Lanka became the country's most awarded media agency in 2017 at the Campaign Asia Agency of the Year Awards in Mumbai
GroupM Sri Lanka became the country's most awarded media agency in 2017, successfully adding another two medals to its collection at the Campaign Asia Agency of the Year Awards in Mumbai on 5 December 2017. The Rest of South Asia Media Agency of the Year category was dominated by GroupM agencies, with Mindshare Sri Lanka receiving the coveted Gold, and MEC Sri Lanka the Silver.
Campaign Asia is the foremost industry publication in advertising and communications, with publication across five continents. Its prestigious annual Agency of the Year Awards-now in its 25th cycle-recognize inspired leadership, management excellence, outstanding business performance and overall achievement in the advertising and communication industries.
In Sri Lanka, GroupM celebrated yet another outstanding year for its agencies in both local and global arenas. In 2017, GroupM agencies received the highest number of awards claimed by a media agency for outstanding performance and effectiveness. The Campaign Asia Gold is Mindshare Sri Lanka's 11th victory for the year in the award circuit, while MEC, the youngest entrant in Sri Lanka to receive such an award for its accomplishments this year, bagged 3 awards.

Mindshare Sri Lanka received the coveted Gold at the Campaign Asia Agency of the Year Awards in Mumbai
GroupM is a trailblazer of innovation in Sri Lanka's advertising and communication industries. As the country's largest media investment management and consolidation agency, it has established itself as the flagbearer of industry excellence and the trendsetters in gold standards.
Mindshare is GroupM's primary agency launched in Sri Lanka in 2006. Its success lies in the collaborative networks it builds with clients, media networks and other partners- and a team of fearless professionals who work together to challenge tradition in the name of creativity. Their specialization in marketing communication provides 360 degree solutions backed by data analytics and consumer insights, targeted towards the marketing objectives of their clients. The agency's core strengths have been adapted to products and services rooted in media; performance marketing, data visualization and collaboration, new content models, e-commerce services, IOT services, budget setting and allocation, channel planning, data management platforms and data handling services.
Mindshare occupies a significant regional and global footprint in media. As a full-service agency in the 21st century, Mindshare redefined volume in the industry by helping to create GroupM, which uses a scale-based approach to benefit clients in media investment management. In 2012 the company coined the phrase 'adaptive marketing', placing adaptively at the heart of Mindshare's approach alongside the three pillars of team work, speed and provocation.
The agency's DNA is about finding new ways to work and invest in order to stay ahead of the curve- Mindshare creates services and products that are rooted in media. Its professional team of experts are nurtured by world class training and development opportunities, and as a result have secured many wins for the agency over the years.
Five-year-old MEC Sri Lanka is the youngest entrant to win an award. With its motto of "don't just live-thrive", MEC's thrive manifesto has propelled the company to become a force to be reckoned with in the industry since its inception in Sri Lanka in 2013. MEC's strength is digital strategy, with a team trained to think digital when devising solutions to problems. A firm advocate of success that is mutual, where growth is within as well as with client partners, MEC shares the glory with clients who have placed their confidence in MEC. The MEC team derives inspiration to break barriers and innovate from their clients and brands themselves.
The wins have always been a team effort, throughout MEC's journey acquiring accounts, awards and accolades. MEC embraces and values individuality which they find, contributes to the passion and commitment they display as a team in supporting individual achievements as well as team efforts.
Being a part of GroupM has allowed the MEC team to tap into the same vast wealth of resources and privileges that its sister companies enjoy. The company recently launched a Toastmasters Club, opening yet another opportunity for employees to develop their soft skills complementary to the online and research based training available to the team.
"It is an honour for GroupM to continue on our trailblazing path in the award circuit this year," said Mr. Sabry Haniz, Chief Operating Officer of GroupM Sri Lanka. "But more importantly, winning these awards signals to us that we're on the right track with the values we embody as an agency, and the work we do with our clients. The close, open and constructive relationships we enjoy with our clients have always set us apart from the pack in this industry-it's the reason for our success. We thank Campaign Asia for recognizing this and look forward to meeting and exceeding expectations as we always have."