---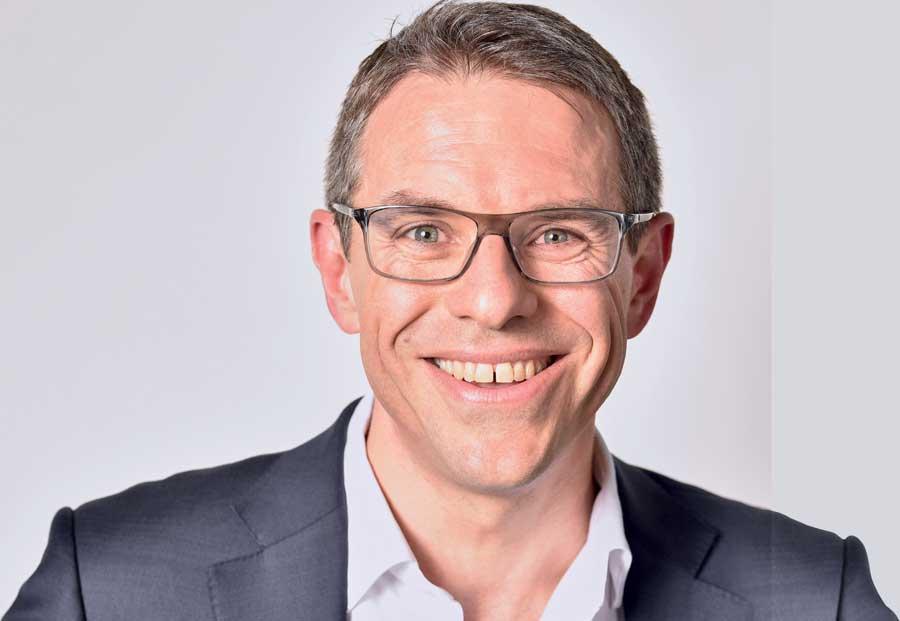 Following is an interview Mirror Business conducted with Stephen Keys, Regional President of IFS' business in APJ, ME&A during IFS World Conference 2019 concluded in Boston, USA, recently. He spoke about a number of things including IFS' role in Sri Lanka as the second largest IT industry employer and the CSR activities of the ERP giant. Stephen is responsible for growing IFS' presence across the region, which involves building a strong customer base, expanding the company's network of quality partners and ensuring the IFS workforce remains engaged and focused on delivering customer value.

Excerpts:
Let's start with talking about Sri Lanka. How important is Sri Lanka to IFS?
We've been in the market for 22 years now and we have about 1,300 people working for us. We've grown steadily in terms of our workforce. We have found Sri Lanka to be a wonderful place to set up shop from an R&D and global support perspective. The prevalence of skills in the marketplace and the general quality of the education system remain excellent. To be able to be part of that and then contribute to that is pretty cool.

We were growing as we grow our R&D commitments. As we increase our expenditure on R&D, we're choosing to invest more in Sri Lanka, again because of the skills base there. We've got a body of knowledge there and a lot of our innovation and the Arena development, which you heard about today, are taking place in Sri Lanka.

If you're in a market like India, it's a much bigger pool of resources. But it's a vicious from of competition. IFS is the second largest employer in the IT industry in Sri Lanka and that enables us to, I guess, work more harmoniously with the marketplace to actually do the type of outreach programmes we do.

Also, we get the 10 years that we're looking for, which is quite unusual for the IT industry. You know, the average tenure in an organisation around the world is 8.5 years. So, I think that's partly a reflection of the work that we've done in Sri Lanka to fill the sense of community there. As you may know, we've just moved into our new offices in Orion City. We had our company board meeting there.

It's a really modern working environment.
''we have more than 100 companies as customers in Sri Lanka, which are using IFS software in different ways, shape or form

Let's talk about some investment figures as well…
What specifically we stick to is headcount rather than other numbers. The R&D numbers, we don't break them down by country. What I would say to you is that the vast majority of our R&D resources are based in Sri Lanka. We are increasing our headcount in Sri Lanka both in terms of R&D as well as global offshore delivery. We do a lot of our managed cloud services out of Sri Lanka.

And of course, we have our global support capability now and in addition to that, we have a dedicated business unit that just focuses on the Sri Lanka market. So, we have more than 100 companies as customers in Sri Lanka, which are using IFS software in different ways, shape or form. So, you know, in addition to the R&D and the other work, we also have local sales, marketing, pre-sales and service delivery capability, looking after the local marketplace.

What is the contribution of the region you are looking after to the overall company performance?
Yes, that I can talk about. The easy answer to say is not enough. Currently, it's about 10 percent. I have an aspiration to make it a more meaningful contribution to the global performance. I want to be 20 percent of global licence revenue. It's a personal ambition that I have.

We have a running joke in our company, you know, historically it was America, Europe and rest of the world. And I kind of say, "Let's try best in the world, shall we?" (laughs). What does that mean? To me, it means leading by example. So, when we talk about focusing on key industries, let's make sure we do that. When we focus on partner ecosystem, let's make sure we embrace that. It also means making a more meaningful contribution to our performance.

So, I see huge prospects for fast growth and I believe that APJ and ME&A can outstrip global revenue growth. Our total revenue grew by 24 percent in the first half of this year and licence revenue by 48 percent. We outgrew that in the first half of this year in APJ and ME &A and we need to continue to do that to make it a more meaningful contribution. But I think we can do that.
''As we increase our expenditure on R&D, we're choosing to invest more in Sri Lanka, again because of the skills base there. We've got a body of knowledge there and a lot of our innovation and the Arena development, which you heard about today, are taking place in Sri Lanka

Can you deliberate a little bit on your company's revenue breakdown, region-wise?
We are a European company. So, I would say that over 50 percent of our revenue comes from Europe and the rest comes from the Americas and other regions. That certainly being as a company that started out in Scandinavia and that's where the heritage is. So, you have that deeper installed base there that tends to generate a lot of the maintenance revenues and ongoing support revenues.

But one of the things that's really interesting is we're seeing the opportunity globally, to really focus on scaling our business towards larger organisations. Flip back five years ago, we tend to have quite a direct service delivery capability. And because of that, some of the larger organisations will sometimes be a little bit concerned about whether to invest in IFS or not, because they were concerned, are there enough resources to support this implementation.

Without a vibrant and diverse partner ecosystem, some larger organisations are somewhat hesitant to invest. So, over the last few years, we've made it a real key platform about growth ambitions; we are strategically repositioning towards the enterprise and we're focusing on our key industries. Having the discipline to stick to that we're building a vibrant partner ecosystem to scale our business quickly and effectively. And what that means is, we're now attracting much larger organisations that recognise that they have choice about who they choose to implement IFS with or any number of our partners.

We still play a safeguarding role. So, we'll do quality assurance and project management and solution architecture. But customers have choice and that gives them great confidence to invest in IFS.

How is your product offering different from much larger competitors of yours?
I think it comes down to that word choice again if I were to pick up one thing. We offer choice in terms of firstly, what you buy. So, we offer an extensible business platform that is modular in nature. You buy the functionality you need when you need it. And by the way, if you've already got something in place, we have open APIs to make sure that it plays nice with any other type of architecture and technology.

You buy what you need when you need it. If you want best of suite, we can offer that. We have got a very powerful suite ERP and AMFSM. And it works well as an integrated suite of products. But it is modular. That's number one. Then we offer you choice in terms of how you buy it, perpetual, subscription, we have different licensing models, we offer choice in terms of how it is installed, on premise in the cloud, your cloud, my cloud, you know, whatever you want, right? There's that flexibility there.

And again, as I said, who implement it as well. I think what we hear in the market is that a lot of customers are growing a bit increasingly unhappy with the somewhat heavy handed tactics of some of our competitors. They feel like they're being forced to go to the cloud or they're being forced to Hana.

And they're being forced to consume technology they may not need at this particular moment in time or they're being forced into long-term maintenance contracts that are quite restrictive. That's why organisations are increasingly looking for a viable alternative in the marketplace— someone that offers a more pragmatic relationship, someone that actually focuses on what the customer wants and is prepared to offer lower total cost of ownership over the three to five-year period. And I think we're that viable alternative.
''It was a common thread that unites the global workforce and it's a way of saying thank you to our staff there. So, we set up a foundation to help break the poverty cycle in remote parts of Sri Lanka. We're trying to invest around US $ 200,000 a year, which is a substantial sum
How much AI, machine learning and all these other groundbreaking technologies play a role in your product offering?
Good question. There is a couple of ways to answer that. Firstly, from a product perspective, we recognise that there are leading players in particular markets in terms of technology providers themselves, when it comes to AI and IoT. Our preference is to partner with organisations as part of an ecosystem. Again, it comes down to focusing on what we do best. We prefer to think of it as a digital core— an extensible business platform upon which you can innovate your organisation.

You need to have a really strong digital foundation and an extensive business platform as a foundational component before you can start to innovate at the edge. We provide that. We provide the connectors and the open APIs to facilitate that innovation. So, we have a range of partners here today that produce IoT and AI capabilities.

Now, the next step is that we sitting down with customers and saying, okay, these technologies exist. Let's not adopt them for their own sake. It all depends on what your business is trying to achieve and the challenges your business is facing. What are the enablers to achieve the value that you want to achieve over the next three to five years? And how does different technologies help you do that. Then we'll work together to put together a value proposition combining IoT technologies.

You think about engineering, construction of infrastructure. You are building a building from scratch using 3D models from conception, design, right through to construction and going into actual asset maintenance itself, to be able to use digital twin capability, for example, as part of that process to the entire project. Asset management lifecycle is really important to a number of organisations.

Now, what we want to make sure is, we don't necessarily want to become experts in 3D modelling or in embedded technology but we want to make sure that we have the connectors in place, so you can take advantage of that and feed information both ways into those systems so the customers can unlock the value they seem to get from technology.

So, our role is to be not just technology experts but to be industry experts to understand what the customer needs, interpret that into technology terms and then figure out what we can do and where we need partners to come up with an integrated solution.

What are the biggest barriers for companies in Asia to undergo this digital transformation that we've been hearing for the last couple of days?
Sometimes it is two ways. I can talk about the challenges we face, which I think can be addressed by focusing on key markets and industries and having the discipline to stick to important decisions. There's a lot of competing demands; there is a lot of noise out there in the marketplace about competing technologies. You need to kind of set that aside a little bit. There was an excellent presentation this morning; I think you might have seen it, by Linda Hill from Harvard.

She talked about the opportunity gap versus the performance gap. What could we be doing versus what should we be doing? And we like that. We think that the idea of focusing on a conversation with a customer what they could be doing. So, leveraging technology as a source of competitive advantage is the right place to start.

I would like to share some things I have observed about Asia Pacific. First one is high mobile penetration, so there's a familiarity with modern technology. And there's a demand for platform independence, that's good for us as we are platform independent. There is a willingness to innovate with different types of platforms and technologies to arrive at a solution. I think that's a good thing.

I think that the lack of regulation, like a GDPR, also promotes willingness to experiment and innovate. I think the fact that you've got kind of lack of legacy in many economies; you don't have decades upon decades of layer upon layer of architectural sediment. When building up, you've got an ability to more quickly adopt new technologies. So, I think that's a source of competitive advantage the companies in Asia Pacific have.

What you have is a set of economies, where 70 percent of trade is now intra-regional. About 20 years ago, a lot of the Asia economies were dependent on Western economies and it's no longer the case. Asian economies are much more self-sufficient and robust. And growth opportunities have presented themselves in the region. I think that's a really good opportunity. As a result, now you are seeing a lot more innovations taking place, a lot more willingness to experiment in Asia. And I think you're starting to see the emergence of Asia leading by example, in terms of adoption of IoT and other technologies.

At this moment of time, we are seeing a lot global headwinds; specially global trade is going through a rough patch. In this context, how is IFS faring?
Again a good question. The comment I made before about the resilience of Asian culture itself is quite interesting. It certainly encourages me to focus on key markets, where we see macroeconomic trends are more beneficial. We still see robust growth in Asia Pacific, the Middle East, China and Japan.

The natural response to crises is radical thinking, right? There are many organisations, which are saying, okay, anticipating the challenging times ahead, how can we make better use of that technology? How can we deploy flexible, responsive, agile technology platforms that enable us to promote innovation to the edge, while making sure that our corporations are still being well taken care of.

So, here, we see opportunities there still, specifically in the region for which I'm responsible. Of course, trade was having an impact on Greater China, for example. But the resilience in the Asian economy in particular, the willingness to innovate and the growth opportunity through rapidly maturing markets, I think we're quite confident and optimistic of our growth prospects.

Your profile says you are passionate about CSR. Could you tell us a little bit about the CSR work IFS is doing, specially in Sri Lanka?
Yes, IFS has maintained a long-standing commitment to CSR in many forms. We have got educational programmes, scholarships; we have a volunteer day where every member of staff worldwide could take an additional day of leave to pursue CSR activity of their choice in their community. But in May, this year, we came up with an idea that was, how do we harness all the fundraising potential of IFS worldwide and all of its partners and ecosystem and customers and to really focus that fundraising effort on a particular issue.

I guess Sri Lanka stood out. We have a third of our global workforce in Sri Lanka, as you would know, we rely on them every day for research and development and global support and a whole bunch of other things. So, for us, it felt right to give something back to that community that serves us so well.

It was a common thread that unites the global workforce and it's a way of saying thank you to our staff there. So, we set up a foundation to help break the poverty cycle in remote parts of Sri Lanka. We're trying to invest around US $ 200,000 a year, which is a substantial sum. We're doing things like access to fresh water to help prevent chronic kidney disease, building wells for farming purposes, building hospital and local school facilities. We are also helping small village industries too, so they can create more employment opportunities. I'm very proud of it. We kick started in May and last night we raised US $ 60,000, which is a huge chunk of year one.

We also have a scholarship programme at universities. So, what we say is that if the child wants to get an IT degree but finds it hard to pay the university fees, we will provide a scholarship, a full scholarship. But they do the degree in over five years, not three and they work for us part time. At the end of the five years, they've got work experience and a degree. I think that's pretty cool.