---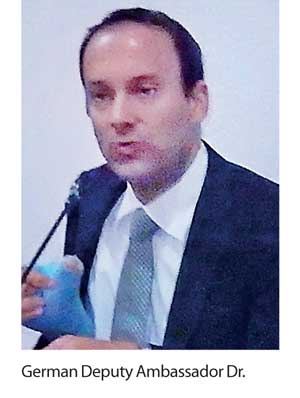 By Zahara Zuhair
While noting that they remain very optimistic about Sri Lanka regaining the GSP Plus status, German Deputy Ambassador in Colombo Dr. Michael Dohmen said both governments are looking at further enhancing bilateral relationships.

"We are very supportive of this application. I think there must be good conversations, good meetings happening between the representatives of European Union (EU) and Sri Lanka.

The application was given on June 29. The procedure is, the European Commission has six months to elaborate the application and, of course of the things I have been heard as for my information, everything is working quiet well," Dohmen told the media at the launch of the second phase of 'SME ProLink' held at The Ceylon Chamber of Commerce auditorium (CCC) last week.

He said that before the departure of the former German Ambassador to Sri Lanka Dr. Jurgen Morhard on July 25, the German government granted 13 million euros to the Sri Lankan government which was pledged during the Sri Lankan President's visit to Germany, February this year.

Meanwhile, talking about the projects that are going to be implemented under this grant, he told Mirror Business that they are currently working on four projects which are— Facilitating Initiatives for Social Cohesion and Transformation (FLICT), Small and Medium-sized Enterprises Sector Development in Sri Lanka (SME), Vocational Training in the North and East of Sri Lanka (VTN) and Education for Social Cohesion (ESC).
He further said that they are looking forward to implementing a project starting next year in Wilpattu, aiming at creating of much needed requirements for a socially-integrating and sustainable management of Wilpattu National park and its buffer zones.

"The idea is to closely link the Wilpattu project to the German funded projects Vocational training in the North and East of Sri Lanka andDeveloping Sri Lanka's SME sector to support Germany's coherent approach of focusing on social integration and peace building," he said.
"We want to strengthen the economic development in that area and to contribute to preserve the Wilpattu, Yala national parks. Sri Lanka wants to attract more tourists. It is important to develop other areas as well," he added.
Dohmen said that the most visible event that happened recently where Germany was involved was the establishing the Sri Lanka-German Training Institute (SLGTI) which was initiated by the German Development Corporation (GIZ), last month
in Kilinochchi.
"We hope that this project would push forward enormously the development of Northern and Eastern provinces," he said.
He added that they consider themselves as partners of Sri Lanka and much appreciate the political relationship between the both countries which has grown dynamically in the last three years.
Germany is an important donor
and technical partner for vocational training in Sri Lanka as well as in infrastructure development and SME sector development.