---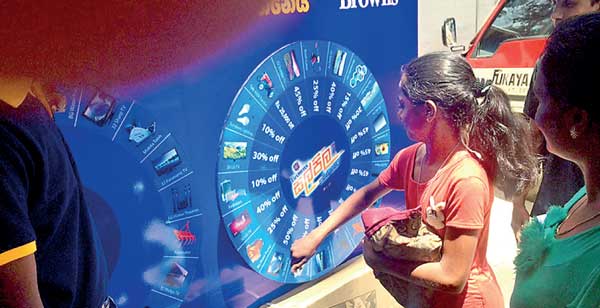 Brown & Company PLC are reaching out to the residents of Dambulla this Avurudu Season by way of conducting a Mega Salpila coupled with an awareness programme.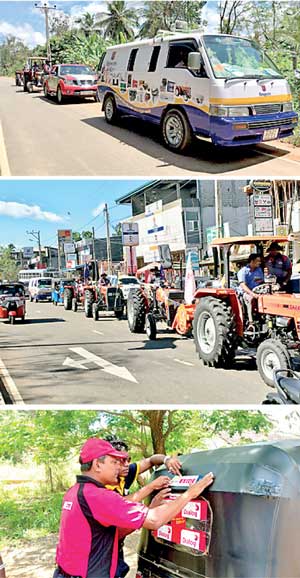 28th March to 6thApril
The Browns team travelled to every village, town and residence conducting intense publicity campaigns from 28th March 6th April.
Inamaluwa, Kimbissa, Habarana, Pubbogama, Galewela, Galkiriyagama, Wawala, Kakirawa, Madatugama, Dambulla Town, Naula.

A mega Wheel of Fortune was one of the main features during this promotional journey. The young and old alike, took part in this fun and exciting game and won prizes and discount vouchers for the various products and services available under the Browns Group.
Most of our products and services were displayed at the various locations. Customers therefore had easy access to purchase/view our products and customers were able to claim their prizes and discounts at the venues.

During the said period, mini Salpila were held in every town/village that the Browns team travelled to. The atmosphere wasone of fun and activity. There were games and entertainment for kids, musicand as well as a giant screen playing a family friendly movie.

7th April
A 120km Cycle Race was held, starting from the Browns Showroom Dambulla, to Inamaluwa, Sigiriya, Mahasengama, Habarana, Kakirawa, Madatugama, Pubbagama, Adiyagala and ended back at the Browns Showroom.

The contest was open to the residents of Sri Lanka.
An interesting occurrence during the Cycle Race was that scratch cards were handed out at random to the public to try their luck at winning prizes and discounts.
At the end of the race, the spectators and participants were entertained with a musical show by the famous band Sunflower at the Gamuda Grounds in Dambulla.

7th to 10th April – Mega Salpila
This will be carried out at the Browns Showroom area in Dambulla. Customers will have the opportunity of experiencing the whole of Browns under one roof with allproducts and services displayed.

Discounts up to 60 percent on Browns Consumer Goods, Free Radiator Checkups, Free Battery Checkups, knowledge sharing on Agriculture,are some of the products and services that customers will benefit from.

The Browns brand is well-known among the older generation of Sri Lanka. Employing a mega marketing campaign assists in boosting sales and profits, brand loyalty and an organisation's competitive edge; but most importantly builds and strengthens the trust with the intended audience.
This programme 'Gamin Gamata-Mega Salpila' is aimed at reaching out to the public to enhance brand equity, of the Browns Group, its strength, heritage and history.