---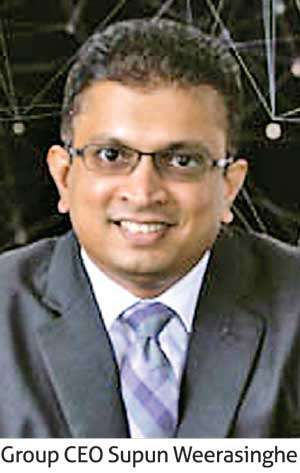 Dialog Axiata PLC's December quarter (4Q18) profits were hurt by the continued translational losses stemming from its dollar borrowings and the one-off cost made on group-wide business process re-engineering exercise towards digital technology.

According to the interim financial accounts released to the Colombo bourse, Sri Lanka's largest telco's top line during the quarter under review rose 15 percent year-on-year (YoY) to Rs.28.5 billion, while operating profits fell to Rs.3.5 billion from Rs.4 billion YoY.

An earnings release by the company said the quarter featured significant one-off gains and charges. The Supreme Court ruled in favour of the company's fully owned subsidiary Dialog Broadband Networks (DBN) on December 14, 2018, leading to a reversal of provision to the value of Rs.3.7 billion during 4Q18.

The provision was made as a matter of prudence in 2012 for a possible claim of the said amount consequent to a judgement delivered by the Commercial High Court of Sri Lanka against Suntel Limited on March 9, 2012.
The operating profit also consists of one-off Rs.2.5 billion cost incurred for a group-wide transformation towards complete digitalization of Dialog Axiata's business activities, processes and competencies.

The group earnings fell to just 1 cent a share or Rs.92 million for the quarter under review compared to 39 cents a share or Rs.3.2 billion reported for the same period a year ago, as the depreciation of the rupee against the dollar continued to erase the group's bottom line due to heavy translational losses relating to its dollar borrowings.

Meanwhile, for the year ended December 31, 2018 (FY18), Dialog group which has interests in digital television, fixed broadband, digital commerce and electronic payments and financial technology via Dialog Finance PLC, reported earnings of 92 cents a share or Rs.7.5 billion in total earnings compared to Rs.1.32 a share or Rs.10.8 billion made for the previous year.

The group earned revenue of Rs.109.2 billion, up 16 percent YoY while the operating profits rose by 13 percent YoY to Rs.16.7 billion.

The foreign exchange translational losses recognized under finance cost was a mammoth Rs.7.5 billion for the year, up from Rs.2.6 billion in 2017.

A significant share of Dialog group's borrowings is represented in foreign currency. Sri Lankan rupee depreciated 19 percent in 2018.

The group last week proposed a dividend of 37 cents a share, which comes to Rs.3.0 billion in total and translates into a pay-out ratio of 40 percent if approved by the shareholders at a general meeting.

Dialog share ended unchanged at Rs.9.90 at last week's market close.

Meanwhile, the group spent a whopping Rs.30.6 billion as capital expenditure in FY 18, up 12 YoY.

During the December quarter, the group took a major step towards 5G with the implementation of South Asia's first fully functional and standards complaint 5G transmission using commercial grade base stations and end-user devices.

As at December 31, 2018, Dialog's Malaysian parent, Axiata Investments (Labuan) Limited held 83.32 percent stake in the firm while State-controlled Employees' Provident Fund held 2.22 percent stake being the second largest shareholder.