---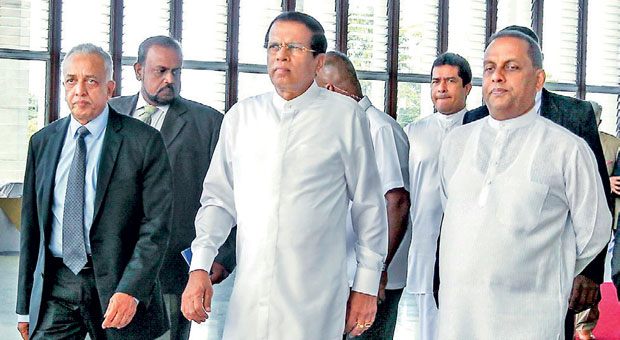 President Maithripala Sirisena arrives at the event, flanked by Development Strategies and International Trade Minister Malik Samarawickrama (left) and Fisheries and Aquatic Resources Minister Mahinda Amaraweera
By Shabiya Ali Ahlam
The government yesterday emphasized on the importance of Sri Lanka getting its export equation right in the short to medium term so that the country can reap the benefits of a stabilized economy, despite some leading global economists increasingly cast doubts over the ability exports has to drive sustainable economic growth.

With Sri Lanka currently being on a path towards economic transformation, in which the revival of the lagging export sector is an integral part, Development Strategies and International Trade Minister Malik Samarawickrama said it is crucial to reach the US$ 20 billion export goal by 2020 to "enrich our country and our people".

Addressing a fully packed audience at the Presidential Exports Awards yesterday in Colombo, the minister said that boosting the export performance of the country is of paramount importance to the government.

"From time to time, various governments have given attention to export development in varying degrees. But let me be clear, export development is a top priority of this government," he said at the event that was graced by President Maithripala Sirisena.

Acknowledging Sri Lanka's slumping exports, where the contribution as a percentage of GDP dropped from 33 percent in 2000 to 12.7 percent in 2016, it was pointed out that the country by no means can afford for the trend to continue as the scope within the domestic market is limited.

A particular challenge faced by the country, Samarawickrama noted, is that the export basket is heavily concentrated on a few markets and a few products. A recent study has shown that 44 percent of Sri Lanka's exports are concentrated in just three markets, USA, UK and India.

So far, Sri Lanka has seen limited success in exporting to key Asian markets such as Japan, China, South Korea, and Hong Kong, which are among the top ten markets for exports in the world, accounting for 20 percent of the global export market. However, the four countries accounted for only 6 percent of Sri Lanka's exports.

"It is high time we made stronger inroads in Asian markets," he asserted.

The minister assured that active efforts are being taken to tackle existing challenges, in a proactive and systematic manner. One of the main initiatives was pointed out as the National Export Strategy, driven by the Export Development Board with technical support from the International Trade Centre.
According to Samarawickrama, the initiative is "probably the most ambitious and systematic export development drive" the country has undertaken in many decades.
Along with the new export strategy, formulated is also a new trade policy that address four critical aspects; competitiveness through domestic policy reforms, market access and trade facilitation, macroeconomic balance, policy and institutional coherence, and trade adjustment for firms and people.

Furthermore, with Sri Lanka facing stiff competition from other exporters, he shared that the government is keen on helping local exporters innovate and infuse new technology into exports.
"The on-going 'Innovation and Entrepreneurship' initiative – being done together with the World Bank - will make national R&D institutions more relevant and more useful to exporters who are looking to develop new products," he opined.

This initiative is said to also improve the enabling environment for export-oriented entrepreneurs and start-ups to unleash their potential.

"As a government, we have a vision for sustainable growth of our nation, and have utmost confidence in the ability of the private sector, particularly the export community, to be the driving force of this growth. We are committed to support in your endeavors," Samarawickrama asserted.