---
Says country has potential to become a true shipping hub for Asian region
By Chandeepa Wettasingha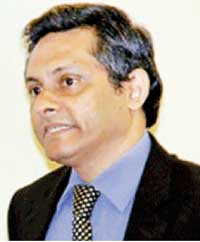 The Sri Lankan maritime sector, which is currently depressed due to the global economic downturn, is likely to head towards recovery by end-2016, an expert said.
"I believe that by end-2016, markets should recover. The CEO of the Maersk Line too said that. Globally it has dropped for the past six months due to economic downturns in Europe and China," former Sri Lanka Shippers' Council Chairman Rohan Masakorala told Mirror Business.
He noted that freight prices per container exported from Sri Lanka have fallen to an average of US $ 450 from around US $ 700-800 prior to the decline.
However, sources said that rates to the Middle East are holding up healthily.
Masakorala said that another factor contributing to the declining prices is an oversupply of large container ships, commissioned by the larger shipping lines.
"It's a case of supply and demand. The number of ships in operation has increased, so now the order book for new ships has been slashed for the next two years," he added.
Sources said that customers are bargaining hard and the lines are giving in, which has led to recovering United States rates also to fall down. The US is Sri Lanka's single largest export market, while Europe is the largest regional market.
Despite larger ships also calling on the Colombo harbour and a downturn in export values for 2015 according to the Central Bank, the ships are being filled partly due to a marginal increase in export volumes from Sri Lanka, but more importantly, due to a boost in transhipments.
The Colombo Port, which is Sri Lanka's only container port, and the largest in South Asia, handled 5.19 million containers in 2015, which was a 5.7 percent year-on-year (YoY) growth. Transhipment volumes grew by 4.9 percent YoY.
"If you look at this region, except for Dubai, Colombo was the only port that grew in volumes. Lines going to Europe will also find it profitable for transhipments from places like Bangladesh to come to Colombo instead of going to Singapore, especially after the opening of CICT," Masakorala said.
He noted that Sri Lanka can become a true shipping hub for the Asian region if all goes according to plan. "We are on track, if we bring in the proper reforms at the proper times and send our business partners the right messages," he said. Meanwhile, he added that despite low freight rates, the maritime sector is staying afloat due to low bunkering prices.
"On the other hand, shipping lines have benefitted from lower bunkering, which is acting as a cushion. Bunker fuel accounts for around 30-40 percent of a ship's cost," he said.
Oil prices are likely to recover slightly but remain low overall for 2016, according to
international experts.
Sector investments to continue
The investments into the maritime sector of Sri Lanka are likely to continue on schedule due to the downturn, Masakorala said.

"This is the best time for investments. Interest rates are still low," he said. Another benefit from industry downturn is that costs of equipment and services in starting up investments dip. "So this is the time that large global companies will come to Sri Lanka," Masakorala said.
The Sri Lanka Ports Authority is seeking investors to expand the Colombo Port, while the Danish-based Maersk line (the largest shipping company in the world) last month said that they are planning to enter Sri Lanka with investments in Colombo Port.

While expansions to the bunkering operations in Trincomalee are already underway, the government is seeking investments to increase the bunkering capacity in Hambantota.

Meanwhile, the Board of Investment in the latter part of last year said that Japanese and Chinese companies were evaluating the feasibility of investments up to US $ 3 billion in the Trincomalee and Hambantota ports for operations such as ship breaking, steel mills and shipyards. Japan's Onomichi Dockyards is also increasing its commitment to Sri Lanka by investing a further US $ 200 million to expand the operations of Colombo Dockyards PLC.