---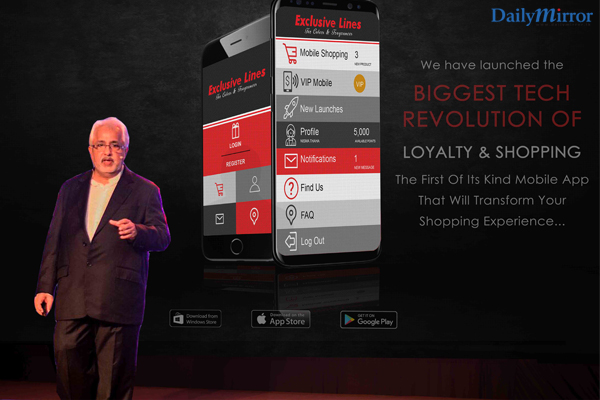 It's as easy as tap and go for discerning shoppers indulging in the wide range of premium fragrances and beauty products at Exclusive Lines. The luxury retailer is introducing a new app that offers customers the convenience of scoring and tracking loyalty points with an NFC (Near Field Communication) tap system for the first time in Sri Lanka. In addition, customers can make their purchases via the app and have their goods delivered right to their doorstep.
Exclusive Lines is ahead of the digital consumerism curve with this new app, which will replace its loyalty card system in stores. Before this development, the company was the first and only retailer to use smart card technology in loyalty cards. Now it is the first company to use the NFC tap system in Sri Lanka-ahead even of financial institutions. With it, customers can shop and redeem points anywhere, anytime. They can also keep abreast of special mobile promotions and benefits, receive news on upcoming online and offline promotions, and get in touch directly with Exclusive Lines for queries and news.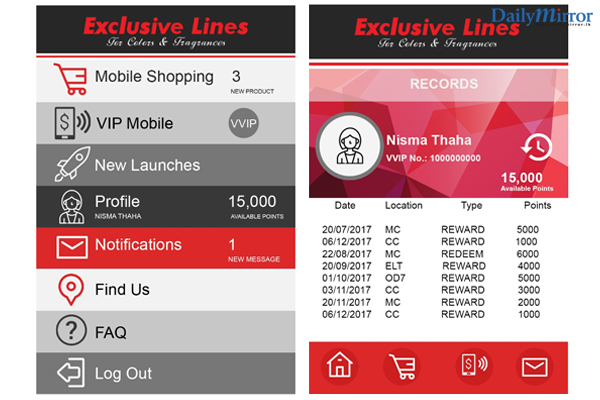 The app is available on Google Play and Windows and will be available on iOS by mid-December. Anyone can register as a member on the Exclusive Lines mobile app with no charge or purchase required. From this point, a generous loyalty reward scheme falls into place. Registering as a member entitles the customer to a 5% reward on purchases of any amount from mobile and via any Exclusive Lines outlet. In addition, they can avail themselves of a 50% bonus on their sixth purchase, and a special 50% bonus on a birthday or anniversary. The app also provides an unrestricted upgrade to a next tier (VIP and VVIP) at any given time.
Exclusive Lines has led the charge for premium quality branded products in Sri Lanka for over 20 years, and represents several international luxury brands such as Lancôme, Yves Saint Laurent, Estée Lauder, Dolce & Gabbana, Clinique, Gucci, Hugo Boss and over 50 international brands for fragrance, skincare and cosmetics.
This total shopping solution for Exclusive Lines customers comes at a time when the Sri Lankan consumer is beginning to embrace digital solutions in retail. Exclusive Lines VIP and VVIP customers already had access to an innovative card system that used smart technology and NFC technology was the next logical step, says HiruSurtani, Director of the company. "Almost all our customers are smartphone owners so it made complete sense to introduce an app in place of their loyalty cards. The EL mobile app also accommodates customers whose smartphones do not have the NFC option, through an alternative method in place of tapping, to utilize and benefit from this app. We have designed this app to be compatible with all types and categories of smartphones. Our customers can now shop at any time via the app and score loyalty points without having to worry about carrying a card."
The app also brings the rare element of transparency to the table; users can access information on their purchases and loyalty points at any time. "This app has been designed for our customers to experience the same service they would experience at an Exclusive Lines store via their mobile. It's convenient, lightning fast and very interactive," added Surtani.
Customers can indulge in this experience at all Exclusive Lines stores island wide.