---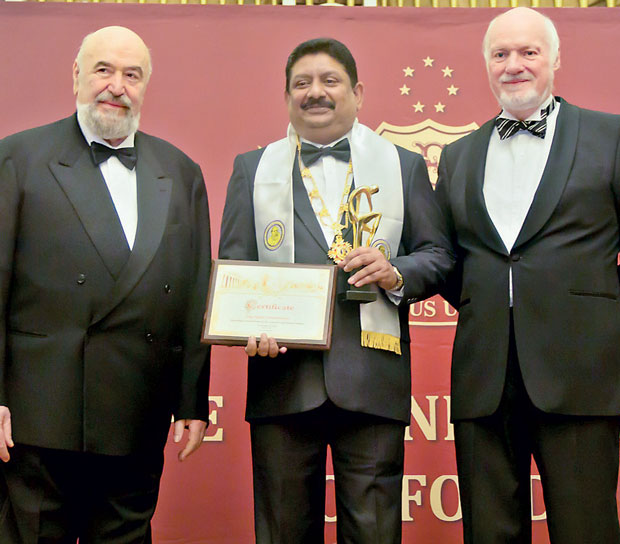 Eng. Sagara Gunawardana, Chairman of Venora Group of Companies (PVT) LTD, has been bestowed with the Socrates International Award for personal contribution to the intellectual development of today's society in the category for 'Business and Economy' by the European Business Assembly (EBA).
He accepted the award on Wednesday 21st December, in Oxford, the United Kingdom.
The Europe Business Assembly (EBA) is an independent Corporation of economic, social and humanitarian collaboration, founded in Oxford, UK. It is an interactive platform for adapting European economic programmes to the standards of living in dynamically developing regions. It follows the directives of the European Union and EU programmes - "Good-Neighbourliness" and "Eastern Partnership".
Every year, EBA awards medals to promising enterprises in Asia, building friendly relations between European and Asian businesses.
Venora International is one of the leading companies in the field of electrical engineering, telecommunication in Sri Lanka, operates under the theme ''Solution Providers for an Energized World''. It has gained ICTAD; EM-1 category registered in 2007 and has been maintaining ISO 9001 quality certification from SGS, International accredited organization for their internal and on site processes.
Since 2003, the Chairman Managing/ Director of the company, Sagara Gunawardana has been the motivating force behind all these achievements supported by enthusiastic management team.
The company has several wings of operation such as local and overseas projects, switch board assembling, telecommunication infrastructure installations, earthing, lightning and surge protection incorporating world renowned brands. Within a short span of time, with the perfect blend of progressive thinking and expertise, Venora Group has expanded to Consist Venora International Projects, Venora Telecom, Venora Industrial Solutions and Venora Lanka Power Panels (BOI approved). Further, Venora has established its overseas presence through Venora Engineering Kenya and Venora Engineering Myanmar.
Venora's quest for excellence has been recognized by the award for Quality & Business Prestige in November, 2005 in Geneva Switzerland, Arch of Europe for Quality and Technology – Frankfurt in 2012. The Global Award for Perfection, Quality & Ideal Performance Rome, Italy in 2012. Best Enterprise & the Manager of the year in Sri Lanka - EBA Awards with UK Trade Marks – Socrates Award – London, 2013. Being the very first Sri Lankan company to receive the license in accordance with UK Trade Marks Act 1994 to use the Trade Mark "Best Enterprise". Global Award at the Golden Awards for Quality and Business Prestige held in Geneva Switzerland, in the year 2015.
With the introduction of industry friendly policy environment and enabling facilities to assist the Engineering sector in Sri Lanka by the Government, Venora is optimistic in achieving its goal as the "most preferred solution provider for an
energized world".