---
One of the country's leading gem and jewellery businessmen Dr. M.G.M.S. Zurfick, who is a Blue Diamond PLC Director, will lead a Blue Diamond team to Dubai International Gem & Jewellery Show 2016 to be held from December 7-10, at the Dubai World Trade Centre.
The team will also comprise Blue Diamond PLC Deputy Chairperson/Managing Director Manjaree Gamage.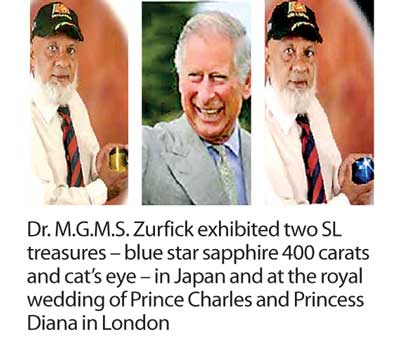 Blue Diamond PLC is the only Sri Lankan company taking part in the mega event and Dr. Zurfick, who has over four decades experience in the trade locally and overseas, is expectant that the gems and jewellery to be exhibited at the Dubai Show would fetch valuable foreign exchange to Sri Lanka.
"We have some of the best products at Blue Diamond PLC and are confident of attracting top international buyers from several countries attending the show," said Dr. Zurfick. Dr. Zurfick has the distinction of having exhibited two treasures of Sri Lanka – blue star sapphire 400 carats and cat's eye – in Japan and these were also exhibited at the royal wedding of Prince Charles and Princess Diana in London. It dazzled and opened the gateway to Japanese buyers to Sri Lanka.
Blue Diamond is a leading company that has won several awards including the President's Award for exports and one of its latest dazzles is what Dr. Zurfick describes as an assortment of life-size diamond tennis balls, golf balls and soccer balls.