---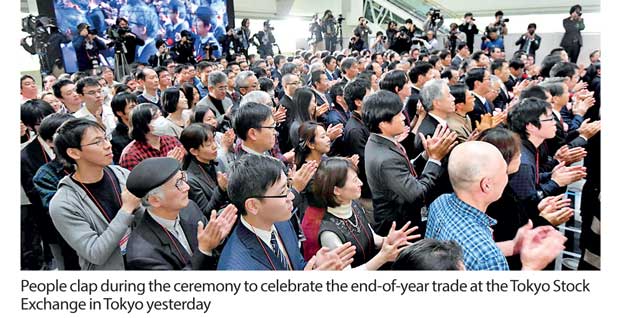 AFP: The dollar suffered fresh pressure yesterday as traders cash in the recent gains fuelled by Donald Trump's tax cuts, while most Asian equities were on course to end a strong year on a positive note.

Asia's biggest markets have enjoyed huge gains over the past year with Hong Kong up more than a third and Tokyo nearly 20 percent higher fuelled by expectations that Donald Trump would push through business-friendly measures.

And while he suffered a series of stumbles he managed to finish 2017 with one major legislative achievement across-the-board tax cuts that include the slashing of corporate rates.

Focus is now on his programme for the next 12 months, with an infrastructure spending bill promised, though there are warnings of headwinds with his low poll ratings and mid-term elections in November that could see his Republicans lose the Senate.

However, despite the positive news from Federal Reserve interest rate hikes, a stronger economy and improving employment, the dollar has been unable to break away from its peers.
Yesterday, the euro was at one-month highs and is up more than 13 percent over the year, while the pound was also in the ascendancy having added nine percent since January.

Most high-yielding currencies including the Australian dollar, South Korean won and Indonesian rupiah were up Friday.

"Whether it's month-end flows or simply that there are no catalysts to buy dollars at the moment that traders can grasp doesn't matter," Greg McKenna, chief market strategist at AxiTrader.

"What matters is that for months now, the dollar has been unable to capitalise on its improved economic outlook, on the tightening plans of the Fed and on the reality that there is clear policy and timing divergence between the Fed and other central banks."

In holiday-thinned share trading Hong Kong was up 0.2 percent and Shanghai ended 0.3 percent higher.

Tokyo closed 0.1 percent down, with tech titan SoftBank reversing early gains to end 0.1 percent off after announcing a deal to take a huge stake in US ride-sharing giant Uber.

Singapore gained 0.2 percent while Taipei, Manila and Jakarta were all higher.

However, Sydney eased 0.4 percent and Wellington was 0.1 percent down. Seoul was closed for a holiday.

Bitcoin edged up almost nine percent above US$15,000 having fallen more than 11 percent on Thursday on the back of news that South Korea would ban anonymous trading in virtual currencies and crack down on links to money laundering activities.

The digital unit has surged this year, rising more than 25-fold from January to hit a record around US$19,500 earlier this month, according to Bloomberg.

In early European trade London and Frankfurt were each flat, while Paris fell 0.1 percent.