---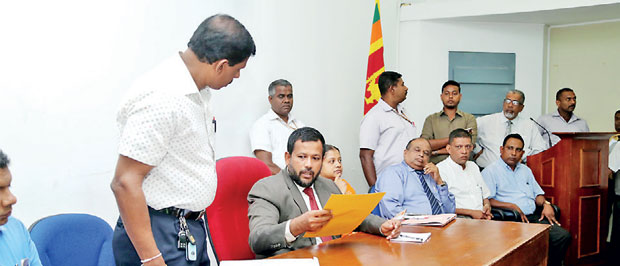 Industry and Commerce Minister Rishad Bathiudeen accepts requests from All Ceylon Polythene Manufacturers' and Recyclers' Association Chairman Anura Wijethunga (second from left, standing) on the eve of August 8 at the Industry and Commerce Ministry
Sri Lanka's high-density polyethylene (HDPE) and recycling industry yesterday said the looming ban on polythene is likely to affect Sri Lanka's retail economy, exports and even garbage disposal.

They further claimed the ban that is set to go live in three weeks from now, on September 1, will also result in the overnight loss of 345000 jobs across the country.

"The new polythene ban is an industry and a humanitarian catastrophe that kills 345000 livelihoods overnight," said All Ceylon Polythene Manufacturers' and Recyclers' Association Chairman Anura Wijethunga.

Wijethunga, accompanied by more than 300 manufacturers of HDPE polythene, was addressing Industry and Commerce Minister Rishad Bathiudeen and his top officials on the eve of August 8 at the ministry and requested the minister's immediate intervention in the matter.

About 80 percent of Sri Lanka's annual polythene production is in HDPE, which is considered to be stronger and low cost, and the rest 20 percent is in low-density polyethylene (LDPE).

Due to its high strength, HDPE is considered to be more harmful to environment than LDPE.
Annually, the Lankan HDPE manufacturers produce around 40 million kilogrammes of HDPE polythene, which is valued at Rs.12.87 billion (US $ 84 million).

Wijethunga, addressing Bathiudeen said that the ban would affect the entire economy.
"Polythene is an essential material in everyday lives anyway. We too support environment preservation. Eight hundred HDPE industry operators are forced to shut down.

After the announcement of the ban, we have been facing a serious liquidity crisis and are unable to operate as no one lends us now. The entire HDPE industry is at a standstill.

"No notice or information about this ban was given to us in advance. We tried to join the policy-level decision-making committee and asked them to include HDPE makers too but the 16-member committee did not include even one industry representative," Wijethunga said.

As per the latest government recommendations, after the ban starts on September 1, if anyone still wants to use polythene bags (shopping bags) in the future, the Rs.1 bag at present will cost Rs.12 and a lunch sheet will cost Rs.10 each.

The polythene makers pointed out that HDPE polythene is used in apparel exports and most fruits and vegetable exports. In the retail sector, HDPE is used from the micro level street-side sellers to supermarkets.

"Since the same polythene is used for garbage collection, there can be a national sanitary issue. That's the level of crisis that Sri Lanka will face due to this ban," they said.

The industry representatives pointed out that no other country in the world banned HDPE polythene in this way.

"They only introduced control measures and not a full-scale ban. What we demand is for a five-year phasing out HDPE industry transition period during which time we can pay back our loans and switch to new technology.

There are no real substitutes for HDPE polythene at this moment. We also call for low-cost Oxo-biodegradable plastic technology to be used in Sri Lanka instead of the proposed starch-based biodegradable plastic technology, which is four times costlier.

We brought down British experts at our own cost to explain to the local environmental authorities but they refused to meet the experts. On the bright side, when we met Prime Minister Ranil Wickremesinghe on this issue recently, he showed his understanding of our plight and sympathised with us," they said.

Bathiudeen instructed his officials to inquire into the issue and also phoned several cabinet ministers promptly, calling for their inputs on the issue. He also immediately arranged a meeting to be held today between the industry reps and national environmental officials.

More importantly, Bathiudeen then scheduled another urgent consultation between the industry reps and Cabinet Committee on Economic Management (CCEM) tomorrow morning. The CCEM is headed by Prime Minister Ranil Wickremesinghe.

Last month, the Central Environment Authority (CEA) banned the use, production, import and sale of polythene lunch sheets, shopping bags, and rigifoam items under a new rule that comes into effect on September 1.

The cabinet approval was also granted on July 11 for "a series of measures to gradually end the use of polythene and thus minimize its environmental impact."