---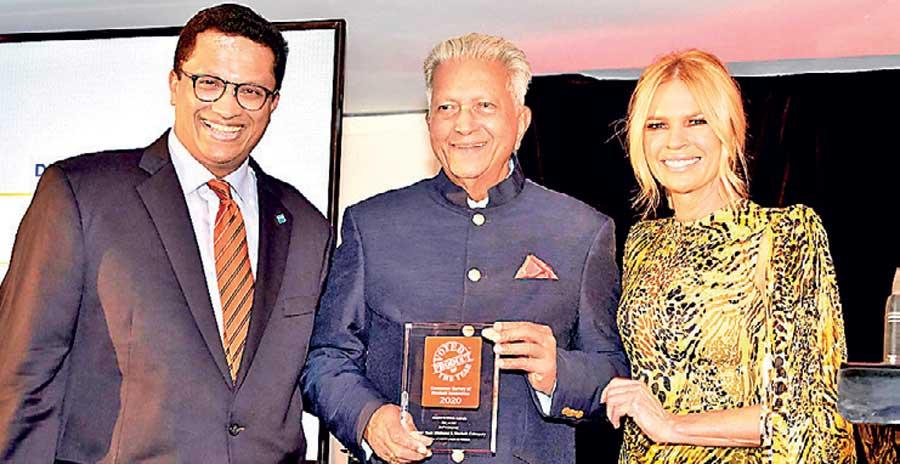 From left.Dilmah CEO Dilhan C. Fernando, Dilmah Founder
Merrill J. Fernando and Sonia Kruger
Dilmah Founder Merrill J. Fernando accepted the Australian consumer award for Product of the Year for Dilmah's Natural Infusions last week in Sydney.

Product of the Year accepts entries every year from products around the world that demonstrate innovation and were launched within the previous year, survey of 10,000 people by Nielsen.

The Product of the Year is the world's largest consumer-voted award for product innovation. The Dilmah Infusions range has been voted number one in the tea category this year.

Dilmah Natural Infusions were selected for the award by Australian consumers. The range is unique for its Ayurveda inspired composition, based on authentic and artisanal ingredients including Ceylon cinnamon, cardamom, clove, nutmeg, moringa, turmeric, black pepper and coconut amongst others.
In formulating the line, Dilmah drew on the 3,000 year history of natural wellness that Sri Lankan Ayurveda offers, and combined those with antioxidant rich rooibos and green rooibos.
The Product of the Year 2020 award in the tea category was presented to Merrill J. Fernando and Dilhan by television personality Sonia Kruger at an Awards Night celebration that recognized winners in each of their categories.
The event was held in Sydney's award winning Quay Restaurant. Sarah Connelly, Director of Product of the Year Australia, hosted the evening together with the POY team.
"I first brought Dilmah to Australia in the 1980s as a tea grower with a dream of launching my own brand. Everyone told me it was impossible, but Australian tea drinkers appreciate the taste and goodness in my tea and gave me the break I needed. I am humbled that 32 years later Australian consumers have once again recognised my commitment to quality, authenticity and a genuine purpose," said Fernando.