---
Dialog Axiata PLC recently announced the launch of Car Connect, an advanced vehicle on-board diagnostics (OBD) device and smartphone app providing vehicle performance and driving diagnostics.
Car Connect is to be one of the many revolutionary solutions introduced under Dialog Smartlife, the digital lifestyle and Internet of things (IoT) platform of Dialog. Car Connect differentiates itself from other GPS providers by offering a wider range of services than just location-based information.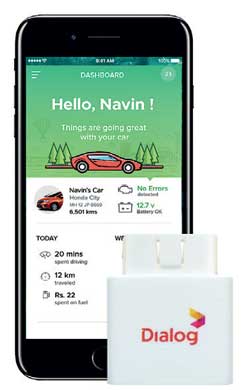 It is a cloud-based diagnostic platform that offers vehicle owners feedback on the status of their vehicles, allowing users to make sense of all the data generated by their vehicles such as vehicle health, driving habits assistance, engine performance, fuel economy, trip analytics and many more.
Explaining the intricacies of the Car Connect solution by Dialog Smartlife, Head of Business Mobile Telecommunication Asanga Priyadarshana said, "The launch of Car Connect makes it possible for vehicle owners to monitor information and statistics on vehicles with complete accuracy. The solution offers a host of reports and makes it possible for an individual or businesses to manage multiple vehicles with ease. Car Connect allows users to improve driving, get insight into vehicles health - including low battery alerts, ECU error codes - and carry out pre-emptive maintenance.

The Car Connect smartphone app also comes with a document wallet with set reminders and alerts for renewing insurance, revenue license and even when the next service is due, making it ideal for individual drivers and fleet managers to monitor their fleets."

Car Connect can be used in any vehicle that supports OBD II (vehicles manufactured after 2005) by connecting to the OBD port. The solution also features a speeding alarm that will alert drivers once a preset speed limit is exceeded, a Geofence alarm, which will alert users when the vehicle leaves a designated area, a towing alarm for when the vehicle is being towed and an Idling alarm that will alert the user when the vehicle engine is switched on for a set period but does not move. Car Connect also makes it possible to keep an eye on your vehicle at all times, while also monitoring mileage, fuel and other statistics to ensure optimal usage.

Explaining the safety diagnostics included in Car Connect Chris Fraser – Director of Inno3 and partners of CarIQ Technologies, explained, "Car Connect comes with driving diagnostics, offering information on hard breaking and rush acceleration, gear usage ratio, harsh turns and high RPM, as well as alerts to stay under speed limits. The mobile app dashboard offers information to enhance drivers and car performance.

The solution also includes alarms that warn you if the device has been removed and also alerts customers when a vehicle meets with a serious collision. The solution also gives insight into trip history, fuel economy and comparative engine diagnostics with similar vehicles on the platform.
These benefits paired with real-time location tracking that allows time interval updates make this the ideal solution for individuals and businesses. The Car Connect solution offers consumers a way to protect and understand one of their most valuable assets.

The device will be available at Dialog Iconic, Mega Centre, Negombo, Kandy and Kurunegala Customer Care Centres. Car Connect smartphone app can be downloaded from the Google Play.