---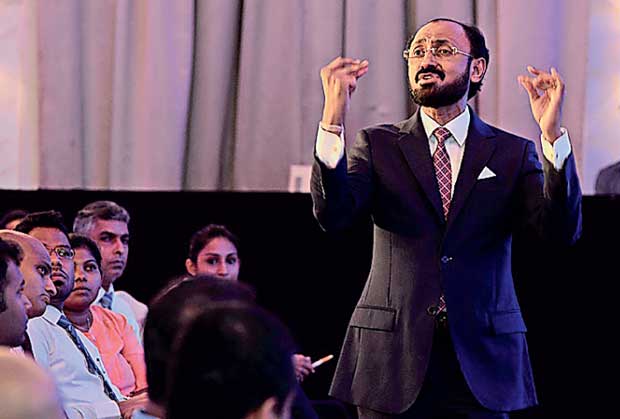 Dhammika Kalapuge's most popular inspirational and educational programme 'Service Mantras' will be repeated for the seventh time on March 30, 2017, at The Kingsbury, Colombo.
All the previous programmes were overwhelmingly successful with the participation of nearly 200 service champions per session. The audiences comprised CEOs, senior management staff, heads of training departments, service champions and entrepreneurs who actively participated and commended the programme. The programmes averaged a plus 90 percent 'Net Promoter Score' in the post-training evaluations.
This programme was designed taking into consideration long years of exposure Dhammika has both from positions held in corporate sector and from the vast amount of experiences gathered providing training over two decades. During this period Dhammika gained nearly 25,000 hours of experience as a trainer which has given him mastery of this subject matter. His excellent knowledge and passion about the area of 'Service Quality' and fluency in both English and Sinhala languages strengthen with his own unique style of delivery has made him a widely accepted trainer in the country.
Many senior managers of corporates who were participants in previous programmes have expressed their thoughts saying, "This is a programme that suits staff in service industries at every level as the learnings can be put into action immediately."
Commenting on the programme Cool Planet Managing Director Rizwi Thaha said, "I attended the 'Service Mantras' programme with 13 members of Cool Planet Retail staff. When I joined Cool Planet my top most priority was to inculcate and improve customer service, as today we cannot compete on the product offerings; given that very soon competition can follow us. To differentiate us from others is to provide excellent customer service. Dhammika's programme showed us how to do it. Sixteen 'Service Mantras' covered everything any business should implement and I enjoyed every bit of this programme. I strongly recommend every business entity to take advantage of this programme and make use of it. Case studies and stories covered in this programme are amazing"
Every participant in the 'Service Mantras' programmes is presented with a comprehensive work-book and a card which summarises the 16 'Service Mantras' as a quick reckoner.
Commenting on repeating the programme for the seventh time facilitator Kalapuge said, "I believe in continuous improvement. I always want to do something better than yesterday, perhaps, I am influenced by the saying of award-winning Japanese film director Akirai Kurosawa that 'My best film is going to be the next film.' Based on my experience as a service recipient, observer and a trainer, in every programme, I try to follow a very simple, practical and logical approaches towards educating participants in setting up a great service culture in their organisations taking into consideration the most current scenarios and case studies. I also update myself by taking part both in local and foreign programmes continuously to give more value to my participants."
Dhammika Kalapuge's programmes are arranged by SIPCOM-1 (Pvt.) Ltd–a company focusing on total people development. It is housed at Galadari Hotel and they can be contacted on 2431314 or www.sipcom-1.com or via email amali@sipcom-1.com for any further information.