---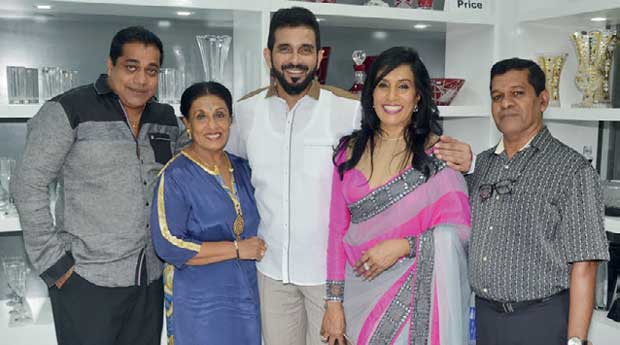 Preethi Fernando, a connoisseur of crystal ware and all things fine and luxurious reopened her super luxury crystal boutique recently with Maliban Biscuit Company Chairman A.G.R. Samaraweera gracing the occasion as the chief guest.
Preethi, whose dedicated crystal ware shop Crystals was temporarily closed for refurbishment, has a whole new sparkling collection in time for the festive season and all you shopaholics outs there.
The wow factor at Crystals is the crystal ware on sale is of the highest quality and is made in Italy, Germany, the UK and Ireland.
What started as a hobby has developed into a flourishing business venture with people from around the country flocking to Crystals to avail themselves of Preethi's exquisite crystal ware.
"My main focus is to provide the customers with a fabulous selection of contemporary designs. We have a variety pieces such as wine glasses, cocktail glasses, champagne flutes, bowls and trays. The other crystal items include vases, candle holders, frames and so much more," Preethi said.
Items are priced from Rs.3000 upwards and are guaranteed to give satisfaction and pleasure to their owners.
The newly refurbished interior of Crystals reflects Preethi's exquisite taste and more than complements the items she has on sale. The luxurious interiors are the perfect setting for her products which could adorn the most fastidious and exquisite of homes, whether they be in Colombo or in any of the world's capitals.
Preethi is renowned for both her personal style as well as her business style and acumen and is known as a trend setter.
The glitter and glamour of Crystals awaits the discerning shopper, so treat yourself to a sparkling Christmas!