---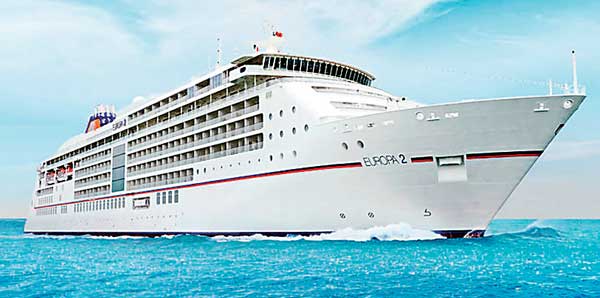 For the first time in Sri Lanka, a cruise ship has made calls on the four main ports of Sri Lanka. The Luxury Cruise Ship Ms Europa 2 owned by German operator Hapag-Lloyd Kreuzfahrten called on the 29th, 30th and 31st January 2016 to the Ports of Galle, Colombo, Hambantota, respectively, and is scheduled to arrive at Port of Trincomalee today.
Hapag-Lloyd Lanka, which is a subsidiary of Aitken Spence PLC is the local agent for Hapag-Lloyd, a top five global container operator. During her stay in Colombo on the 30th January 2016 at the request of Hapag-Lloyd Cruises, the local agent Hapag-Lloyd Lanka carried out a full passenger turnaround in Colombo on 30th January 2016 which included, embarking and disembarking a total of 740 passengers
Ms Europa 2 is a newly designed luxury cruise ship, which is considered as one of the most spacious cruise ships on the market. Every year the Ms Europa 2 sets sail on its journey around the World to visit Ports that are unreachable by other ships due to its size.
Hapag-Lloyd Kreuzfahrten has decided to have more frequent callers to Colombo, Galle, Trincomalee and Hambantota and are scheduled to call all four Ports in Sri Lanka in 2017/18. A full passenger turnaround is once again scheduled to take place in 2017 and as well as in 2018. On April 7th 2015 Ms Europa, the sister ship of Ms Europa 2, called the Ports of Trincomalee, Galle and Colombo.