---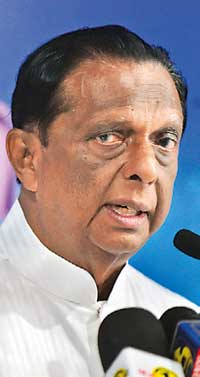 Confusion among tourism authorities continues with the portfolio minister casually claiming that Sri Lanka would reach 2.5 million in tourist arrivals for 2016, despite the official target for the year remaining lower, highlighting the need for market research. "We hope by the end of the year, we'll come to about 2.5 million tourists visiting Sri Lanka," Tourism, Land and Christian Affairs Minister John Amaratunga said last week, addressing a media conference. He added that the indications are very good, with advance bookings.
The government missed the 2 million arrival target for 2015, attracting just 1.8 million tourists. "Travel agents are confident, tour agents are confident, hoteliers are confident that they will have very good occupancy from September onwards," Amaratunga stressed. Sri Lanka Tourism Development Authority (SLTDA) Director General Malraj Kiriella, who was also present at the media conference corrected the minister, saying that the arrival target for 2016 is 2.2 million tourists. "But we are aiming higher," Amaratunga replied. He added that the country will seek to attract 4.5 million tourists by 2020. The question is if Sri Lanka can achieve such targets.
To reach the 4.5 million tourists goal, arrivals should grow at a compounded 20.4 percent till 2020, while to reach 2.5 million this year, growth should be at 39.7 percent. However, growth rates of arrivals have been in decline, from 26.7 percent in 2013 to 19.8 percent in 2014, down to 17.8 percent in 2015. The growth rate for the first 6 months this year has been 16.2 percent, with arrivals growth in June slowing down to just 2.2 percent.
Experts predict growth to be below 15 percent in 2020, as the high base growth in the post-war era cannot be matched anymore. The initial tourism master plan of the previous regime had aimed to attract 2.5 million tourists by 2016 and 4 million tourists by 2020, largely driven by the euphoria of the post war arrivals boom, instead of forecasting based on scientific research. When the arrivals target for 2013 could not be achieved, the past government had adulterated the numbers to show higher arrivals. "You look at the growth rates.
The point is can they be sustained? You can't keep on adding. Last year the figures were arbitrary and I'm sure they didn't plan it," SLTDA and Sri Lanka Tourism Promotions Bureau Chairman Paddy Withana had said this March. He had said that a new master plan based on such research had been formulated, which envisions 2.2 million tourist arrivals for 2016 and 4.5 million arrivals by 2020. However, the research data has not been published. Further, the state's Airport & Aviation Services Sri Lanka Limited, which manages the country's airports, does not allow any other party except for SLTDA to conduct arrival and departure surveys at the country's main airport, barring independent data analysis. No funding has been allocated to conduct market research in foreign countries either, which could run into millions of dollars, according to international experts.Withana had added that the plan would be published soon, a promise which has not yet been fulfilled. Since making such a statement, different officials have been quoting the arrivals from the two different master plans, highlighting a breakdown in communication within the government. An expert involved in the new master plan had been heard quoting a 4 million tourist arrival target for 2020, showing further inconsistencies.
The United Nations World Tourism Organization Executive Director Marcio Favilla had also quoted figures from the former master plan during the Sri Lanka Tourism 50th Anniversary celebrations. However, some experts question the priorities of the government in chasing arrival targets, since arrivals will increase only if there are quality improvements in the tourism products in Sri Lanka. (CW)