---
The strong performance of the consumer, healthcare and energy sectors offset the negative results from the tea plantation business at Sunshine Holdings PLC, paving the way for the diversified conglomerate to pull off a robust performance for the quarter ended December 2018 (3Q19).
The group top line rose 11 percent year-on-year (YoY) to Rs.5.8 billion, while the profits from operations also rose a similar percentage to Rs.772.4 million.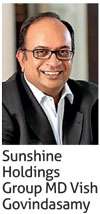 The top line was somewhat weighed down by the drop in the revenue of the group's agriculture sector as unfavourable weather affected the tea plantations, an earnings release by the company said.

Sunshine Holdings operates its palm oil and dairy business under Watawala Plantations PLC. The group's tea plantations, which were held under Watawala Plantations until 2017, were spun off to a separate entity called Hatton Plantations Limited and was subsequently listed via an introduction.

Both Watawala Plantations and Hatton Plantations Limited reported lower profits for the December quarter, their respective interim results released to the Colombo Stock Exchange showed.
The Sunshine group reported earnings of Rs.1.87 a share or Rs.277.8 million for the quarter under review, up 53 percent YoY.

Meanwhile, for the nine months ended December 31, 2018, the group reported earnings of Rs.5.03 a share or Rs.721.5 million, compared to Rs.5.23 a share or Rs.713.9 million reported for the corresponding period in 2017.

The revenue rose by 7 percent YoY to Rs.16.7 billion.

"The group revenue, which predominantly includes revenue from the healthcare, consumer goods and agribusiness sectors, contributed 40.3 percent, 25.9 percent and 30.7 percent, respectively.

The consumer goods and healthcare sectors recorded significant YoY growth at 13.9 percent and 12.8 percent, respectively, against the same period, last year, despite a dip in the agri sector, where revenue contracted by Rs.189 million (3.5 percent de-growth YoY)", the earnings release said.

Despite faring better, the healthcare segment margins remained under pressure from the rupee devaluation and government price controls.

Meanwhile, the consumer goods business enjoyed better margins while the power business benefitted from higher rainfalls in the catchment areas.

As at December 31, 2018, Lamurep Investments Limited held a 45.41 percent stake in Sunshine Holdings, followed by an 18.08 percent stake held by SBI Ven Holdings Private Limited and a 17.43 percent stake held by Deepcar Limited.