---
T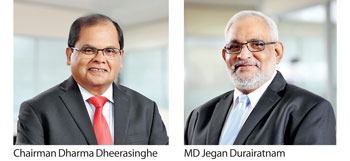 he slowing appetite for new loans amid higher interest rates appeared to have had limited impact on Sri Lanka's largest private lender by assets as the bank had little trouble in growing its assets faster than most of its competitors, which supported the bottom line of its most recent quarter.

Commercial Bank of Ceylon PLC (ComBank) yesterday reported net profits of Rs.4.15 a share or Rs.3.8 billion for the April – June quarter (2Q17), up 17.9 percent year-on-year (YoY) on a net interest income of Rs.9.3 billion, which rose by 15.3 percent YoY.

The ComBank share closed 50 cents or 0.36 percent up at Rs.138.

ComBank which has a sizable footprint in Bangladesh reported a total interest income of Rs.28.7 billion, up 31 percent YoY while the interest expense rose by a faster 42percent YoY to Rs.16.2 billion.

This exerted some pressure on the margins, albeit marginally, as the net interest margin slipped to 3.43 percent from 3.47 percent at the beginning of the year.

The bank made specific provisions of Rs.61 million for the quarter compared to some massive Rs.3.2 billion made against the profit during the same period in 2016. However, the general provisions were at Rs.648 million against a provision reversal of Rs.2.7 billion in 2016.
This resulted in total impairment provision of Rs.709 million for the quarter, up from Rs.568 million YoY.

The net fee and commission income rose by 33 percent YoY to a little over Rs.2.0 billion while the net gains from trading was Rs.482 million against a loss of Rs.1.9 billion incurred for the same period a year earlier.

Marked-to-market gains made on investments in government securities and equities which had no direct impact on the bottom line also rose rather considerably.

But other incomes fell sharply from Rs.2.3 billion to Rs.271 million.

Meanwhile, for the six months ended in June 30, 2017 (1H17), ComBank reported net profits of Rs.7.7 billion or Rs.8.27 a share, up 17.5 percent YoY.

The profit was made on a net interest income of Rs.18.1 billion, up 11.4 percent YoY.

The higher earnings were possible due to new loans given during the period, which amounted to Rs.53 on a standalone basis. This is a 8.3 percent increase from December 2016 and the bank had a loan book of Rs.686 billion. The increase in loans by the bank took place on the back of improved asset quality as the gross non-performing loan ratio was 2.12 percent compared to 2.18 percent at the start of the year.

The total bank asset grew by 7.20 percent to Rs.1.09 trillion. The assets were predominantly funded by the customer deposits, which grew by as much as Rs.60 billion or 8.1 percent YoY to Rs.740 billion.

Although the low cost deposits grew on an absolute basis, the current and savings account (CASA) ratio slightly weakened to 40.2 percent from 41.7 percent in December 2016. However, this stands among the highest in the industry.

The bank in June raised Rs.10.1 billion through a rights issue to support its capital base and the growth.

As of June 30, 2017, DFCC Bank held 13.71 percent stake being the largest shareholder of ComBank followed by the Employees' Provident Fund with a 9.66 percent stake.

During the 2Q17 T. Rowe New Asia Fund has entered the top 20 shareholders of the bank being the eleventh largest shareholder with a 1.61 percent stake.