---
CCPI headline inflation for Sept. at 4.1%, compared to 4.0% in Aug.
Surge in coconut prices had biggest impact on food basket
Resurgence in non-food inflation seen with return of normalcy
Colombo district prices slowed for the second month in a raw in September mainly on higher base effects in the year earlier period, but the prices of both foods and non-foods rose during the month from August as coconut prices weighed on the food basket while people resumed moving freely with the return of normalcy.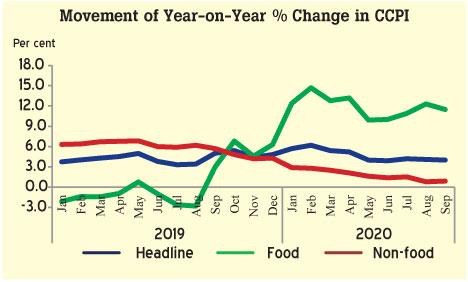 The headline inflation measured by the Colombo Consumer Price Index increased by 4.0 percent during the twelve months to September, from 4.1 percent in August and 4.2 percent in July, as the higher base prevailed in 2019 softened the point-to-point inflation, but the prices are on an ascent on a month-on-month basis as prices of key commodities such as coconut, vegetables and fresh fruit rose.

Non-food inflation, which remained muted for some time during and in the immediate aftermath of the pandemic outbreak, showed some notable uptick during September as people went back to work, resumed patronising restaurants, visited places and engaged in other recreational activities after months of social distancing, as the prices of clothing & footwear, transport and restaurants & hotels showed increases.

The so-called core prices, which are measured barring the often-volatile items such as food and energy, also decelerated in September to 2.9 percent on year-on-year basis from 3.2 percent in August.

The Central Bank has announced an inflation target of between 4 and 6 percent for 2020 and expects prices to remain benign until mid-2022 as the monetary authority doesn't expect its aggressive monetary policy and liquidity injections and normalising of oil prices to put pressure on prices until such time.

However, supply-side shocks such as droughts and floods could exert pressure on major food items, which are part of the consumer price basket.

Main food items have been however on a climb in the recent few months as prices of coconut rose to exponential levels amid surging demand from export-oriented kernel products manufacturers.

By the third week of September, the price of a coconut ranged between Rs.70 to Rs.89 depending on the size, the prices collected by the Census and Statistics Department across the main markets in the Colombo district showed.

In order to arrest the rapid increase in the coconut prices, the Consumer Affaires Authority last week set a maximum retail price for coconut, which ranges from Rs.60 to Rs.70, depending on the circumference of the nut.

Meanwhile, prices of vegetables, fresh fruit and big onions also rose quite notably among other categories of food items, which had their prices increased during the month.

The prices of sea fish, coconut oil, potatoes, limes, eggs, chilli powder, pepper and a few others declined during September. The food prices rose by 11.5 percent in September on a YoY basis, decelerating from 12.3 percent, but the month-on-month (MoM) prices rose by 1.6 percent from 0.3 percent in August.

Meanwhile, the non-food inflation rose by 0.9 percent in September on a YoY basis, accelerating from 0.8 percent in August, while the MoM prices also rose by 0.2 percent after recording negative 0.2 percent in August.