---
Colombo City Centre, the majestic mixed-use development project by Abans Group in collaboration with SilverNeedle Hospitality is getting ready to redefine the benchmark of luxury in Colombo, Sri Lanka.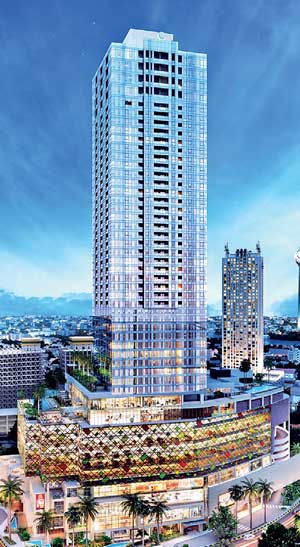 Located in the heart of Colombo opposite the scenic belt of Beira Lake at Sir James Peiris Mawatha, Colombo 02, this 47 storey mixed-use lifestyle centre comprises of a shopping mall, luxury apartment complex and hotel. Colombo City Centre is a project beyond the ordinary that offers amenities adding to the quality lifestyle of Sri Lanka. By joining hands with SilverNeedle Hospitality, Abans Group has initiated a connection between local and international partners in-turn establishing a global footprint for Sri Lanka and bridging the gap across borders. This mixed use development project currently under construction is smartly designed to accommodate a 5 storey Lifestyle Retail Mall comparable to the larger malls of Dubai and Singapore, NEXT Hotel Colombo – the flagship brand of SliverNeedle Hospitality catering to the professional and leisure needs of business travelers and Residencies at Colombo City Centre bringing to Sri Lanka what can only be perceived as the next frontier to high-luxury living.
The mall will feature a large shopping arcade infused with a plethora of brands both local and international, supermarket, games and recreational activities providing an enjoyable experience for individuals as well as families alike. Home to the cities trendiest dining and entertainment options Colombo City Centre will encompass an International food court, restaurants and cinemas that will redefine lifestyle, leisure and hospitality in the nation.
NEXT Hotels the pride of SilverNeedle Hospitality caters to satisfy the needs of a business traveler and thus embodies a customer-centric design approach that provides greater value in areas that matter most to its respective guests. For those that believe time is of the essence, NEXT Hotel Colombo is your answer. It is designed predominantly around your personal business conduct with all the fine traits of modern urban lifestyle that empowers guests with choice, flexibility and control. With its strategic location, tech-forward facilities and sophisticated services, Colombo City Centre will offer the finest guest experiences imaginable, carefully crafted for today's luminaries who will make this hotel their home away from home.
Residencies at Colombo City Centre withhold a variety of options ranging from 2,3,4 and 5 bedroom apartments with size variances of 973sq to 4898 sq. The subsequent prices span from US$ 330,000 to US$ 2 million. In addition to the amenities provided that fall nothing short of magnificent, residents will also enjoy panoramic views of the city and coastline from this 47-storey iconic landmark. Furthermore along with separately demarcated parking facilities, entrances and lifts for the mall, hotel and residences the residents will also be offered exclusive access to the swimming pool, state-of-the-art gym, sauna, barbecue area, children's play area and a sky lounge on the 43rd floor.
Furthermore, residents do not need to stress about entertaining themselves or their guests with the option of having immediate access to a hotel. Colombo City Centre takes luxury living to an all new level wherein residents have access to cinema's, supermarket, restaurants, food court, entertainment and shopping all within the same complex without having to step out. The Residences at Colombo City Centre create an excellent opportunity for investors. Investors can expect good capital appreciation and rental return. They will also receive freehold title to their apartments.
Colombo City Centre is a masterpiece that combines elegance with comfort and entertainment offering people an experience like no other. The carefully constructed architectural design of this building is truly cutting edge highlighting pure elegance with its awe inspiring façade reflecting its beauty at both night and day. It is geared towards being a qualitative addition to the vision of Sri Lanka to be positioned on the map of flourishing tourism and investments.
Not only does Colombo City Centre offer a vast array of amenities such as retail, leisure, entertainment and luxury living under one roof it is also conveniently located near the best schools and hospitals in the city. Abans Group together with SilverNeedle Hospitality bring forth their proven competencies in retail, hospitality and services with this iconic landmark which will undoubtedly create both short and long term value for all investors.
Sri Lanka is characterized by strong fundamentals making it one of the most attractive investment destinations today. These include a vibrant diversified culture, rich history, strategic geographic location, strong stable government leadership, agricultural abundance and progressive industrial production. Colombo is seen as having the potential to be South Asia's hub for real estate investment and Sri Lanka in-turn is soon growing to be the most vibrant and sought-after destinations around the globe. That said, Colombo City Centre is a project that truly marks an incredible milestone for Abans Group assuring the highest standards of lifestyle, leisure and retail attractions.