---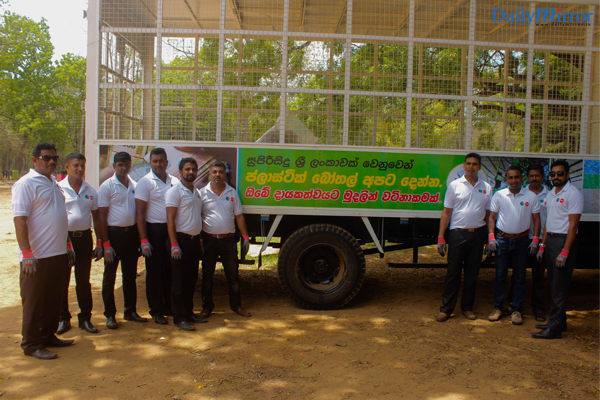 The collective team of volunteers comprising of the local authorities and the Kataragama Environmental Society (from the Kataragama Committee), Beira Enviro Solutions and Coca-Cola Beverages Sri Lanka Ltd.
Coca-Cola Beverages Sri Lanka Ltd recently supported and sponsored the collection and clean-up of PET bottles following the large crowds gathered at the Kataragama Perahera Festival. It was an effective community-driven initiative with the partnership between Coca-Cola, Beira Enviro Solutions Ltd (part of BPPL Holdings) and the Kataragama Committee to collect and recycle PET during and after the Kataragama Festival from 24th July till 10th August 2017.
Bottled water, fruit juices and carbonated soft drinks are packaged in 100% recyclable PET plastic bottles, thus making PET the most widely recycled plastic in the world. Coca-Cola partnered with Beira to "Give Back Life" to these used, empty PET bottles which would otherwise have possibly journeyed to garbage dump sites. Coca-Cola's principle of extended producer responsibility ensured education, awareness and capacity-building initiatives towards an individual's responsibility towards responsible disposal and recycling, as well as the importance of community-driven, sustainable initiatives in PET collection, recycling and waste management practices.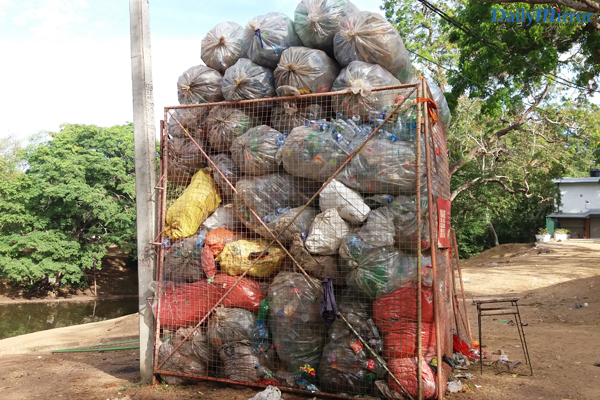 PET bottles collected by the volunteers
The PET clean-up drive not only improved the immediate surroundings but also encouraged festival participants to take individual initiative. Ensuring an end-to-end approach to the littering issue during the festivities, 1000 litre and 5000 litre bins were placed in easily accessible locations around the venue for the festival participants to responsibly dispose of their PET bottles. It was a completely hands-on initiative by the organisers with volunteers from Coca-Cola participating on the day to lead the awareness programme in driving recognition of the universal recycling symbol for the PET package – the number '1' inside the arrows arranged in a triangle.
Coca-Cola's sales associates who oversee the Kataragama area (under the Matara Sales Area) joined hands with volunteers from Beira and the Kataragama Environmental Society in the clean-up efforts of the Kataragama Festival, with the PET collection being managed by Beira. To ensure true environmental responsibility and sustainability, all items in the clean-up drive had to be recycled or reused including gloves and poly-bags.
Mr. Mayank Arora, Managing Director of Coca-Cola Beverages Sri Lanka Ltd said, "Coca-Cola is committed to promoting PET collection, recycling and upcycling initiatives in Sri Lanka. We are thankful to all the volunteers who dedicated their time to drive this important initiative and took action to preserve their environment. Giving Back Life to 4,500 Kilogrammes of PET bottles, approximately 100,000 PET bottles will be successfully utilised when the collected PET is upcycled to manufacture a range of durable cleaning products for both professional and household applications by Beira Enviro Solutions, our partner in this initiative."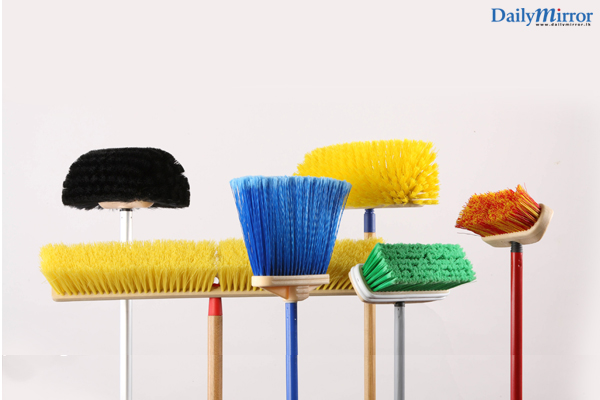 Upcycled products made from PET bottles
Dr. Anush Amarasinghe, CEO - Beira Enviro Solutions said, "We are delighted to champion community action to ensure PET recycling and waste management with such a partner as Coca-Cola.
We are grateful to the Kataragama Committee including the local authorities to having acknowledged the importance of setting an example for the community to take steps in mitigating their own individual waste footprint. Responsible disposal of post-consumed packages and recycling should be considered as a duty of all citizens in Sri Lanka. Beira looks forward to working with Coca-Cola to recycle PET bottles across the nation. This joint initiative of PET collection and recycling has effectively translated to the reduction in usage of approximately three barrels of crude oil, 32 KWH of electric energy, 1m3 of land filling and the lowering of CO2 emissions."