---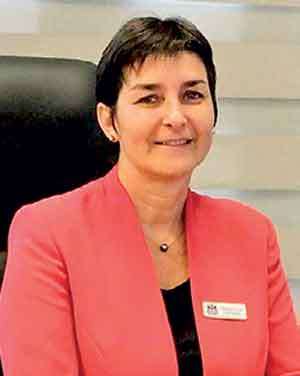 The Kingsbury Hotel, the flagship five-star hotel which stands tall in the Leisure arm of Hayleys PLC, recently announced the appointment of their new General Manager, Christine Chevalaz.

Prior to her appointment at The Kingsbury, Chevalaz has worked in a series of successful hotel chains in a variety of locations including the United Kingdom, Belgium, Gabon, Dubai, Bahrain, Mauritius as well as French Polynesia and Maldives and brings with her nearly 30 years of experience in the hospitality sector.
She holds qualifications from Edinburgh Napier University in Scotland in Hotels, Catering & Institutional Management, Hospitality Administration & Management.
Commenting on this appointment, Managing Director of The Kingsbury Lalin Samarawickrama, stated, "I am pleased to announce the appointment of Christine Chevalaz as our new General Manager. Christine hails from France and has an impressive track record in leading and transforming, international hotel chains, in multiple countries. I wish her the very best in her new role at The Kingsbury and look forward to herexpertise and acumen, taking The Kingsbury to greater heights."
Chevalaz added, "I am truly elated to beleading The Kingsbury an eminent five-star hotel in the country and look forward to working with the Kingsbury team and taking this iconic property to the next level. Our aim is to ensure that guests receive an extraordinary experience during all their visits and all interactions with our brand."

The hotel industry is part of Chevalaz's DNA, having grown up in a family-owned hotel she was introduced to the workings and intricaciesof this industry at a very tender age, and was groomed to help out in the operations. She hasn't looked back since and has dedicated her entire career to the hospitality industry.

The Kingsbury Hotel is located in the heart of Colombo featuring stunning views of Sri Lanka's iconic Galleface Green. The hotel boasts a collection of varied cuisine from its outlets – The Kings, YueChuan, Harbour Court, Honey Beach Club, The Gourmet Station, The Grill and The Ocean. Since its inception, The Kingsbury has consistently catered to the diverse needs of customers. As the newest offering, the award winning Singaporean dining and entertainment brand CÉ LA VI will arrive in Colombo and embellish The Kingsbury rooftop as it takes entertainment and nightlife to a new pinnacle. The Kingsbury has earned global accolades including Regional Winner Luxury Business Hotel in South Asia and Best Luxury Business Hotel in Sri Lanka.