---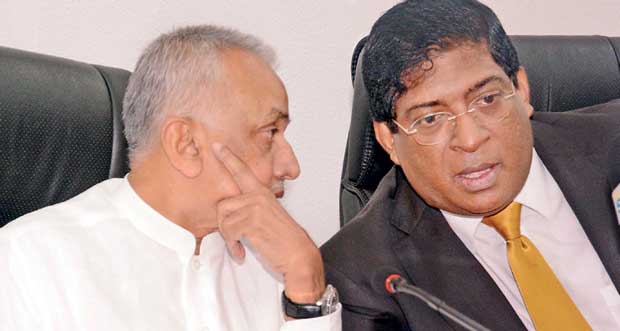 Ministers Malik Samarawickrama (L) and Ravi Karunanayake at the media briefing.
Pic by Pradeep Pathirana
By Chandeepa Wettasinghe
China Merchants Port Holdings (CMPH), the Chinese company with which government plans to enter into an agreement to develop Hambantota port, will still go ahead with the deal minus the 15,000 acres of industrial land, which would make the port viable, a high ranking government minister said yesterday.
"Yes, they (land and the port) are not connected," Development Strategies and International Trade Minister Malik Samarawickrama said in reply to a question by Mirror Business during a media briefing yesterday, which saw heated exchanges of words taking place between journalists and Finance Minister Ravi Karunanayake.
Adding to Samarawickrama's comments, Karunanayake said the port and the industrial zones would be developed by two separate companies. "That is the distortion which is going around," Karunanayake noted.
However, all Chinese companies conducting development work in Sri Lanka are owned or ultimately controlled by the Chinese government. The development of the port and industrial zones are expected to bring in nearly US $ 10 billion in foreign direct investment.
The comments by the two ministers however appear confusing, at least on the surface, since a fortnight ago Samarawickrama had said that the only reason why the Chinese would be able to make the loss-making, volume-low Hambantota Port profitable was by creating trade volumes through the industrial zones in Hambantota, where products can be manufactured cheaper than in China.
"To make the port viable, we need to manufacture goods. They (CMPH) can't sit around doing nothing. Ships need to come, goods need to be traded. So we are creating special industrial zones to manufacture export products to create trade," he had said. The government is hoping to transfer 80 percent of the Hambantota Port shares to CMPH for US$ 1.12 billion for a period of 99 years in order to repay expensive debt and support fragile foreign reserves, and allocate 15,000 acres for China to develop three industrial zones in the Hambantota, Moneragala and Matara districts.
Civil society groups and prelates of some of the leading Buddhist sects this week have expressed their opposition to providing land to China.
Residents near the port have also protested recently in fear of the government expropriating their land.
However, Samarawickrama yesterday reaffirmed that 95 percent of the lands for the industrial zones are state-owned, and the remaining 5 percent would be purchased at a fair price, after cordial negotiations.
He added that the plans for the industrial zones, which he had last month said would create 400,000 jobs for Sri Lankans, are still in the conceptual stage, but that one Chinese company has already agreed to create a joint venture vehicle for the zones.
Meanwhile, Samarawickrama asserted that the signing of the three agreements to transfer ownership of the Hambantota Port will be completed in "one or two weeks" and that "there is no delay". He had a fortnight ago said that the government is "hoping to sign the agreements by 7th or 8th", which Cabinet Spokesman Minister Rajitha Senaratne too had confirmed this week, which Samarawickrama denied yesterday.
"I did not say that the agreement would be signed on January 7th. I said that the agreements would be signed in the month of January. It would take one or two weeks more," he said. However, minutes later he said, "We are hoping to finish everything before end of January, but of course it depends on the discussions and whether we can come to an agreement. We don't want to rush anything, but we want to take our time and make sure we have a proper agreement."