---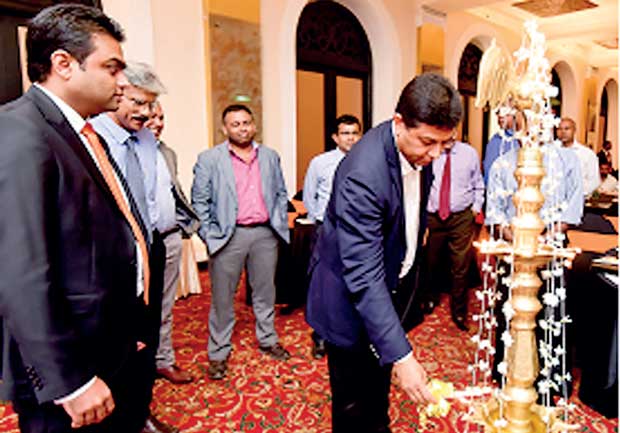 Chemanex PLC, one of the leading producers and importers of industrial chemicals and intermediates in Sri Lanka, recently introduced a new construction chemical product line to the market at a ceremony held at Taj Samudra Hotel, Colombo.
The launching ceremony was held under the patronage of Professor Anura Nanayakkara from the University of Moratuwa. Accordingly, the new affiliation between Chemanex PLC – a key member of the CIC group, and Kao Industrial (Thailand) Co. Ltd – a member of world renowned Kao Group, will pave the way to elevate the country's construction industry through the introduction of world-class specialty compounds.
Chemanex manufactures and imports chemical and paint solutions for a multitude of industries including rubber, paint, detergent, cosmetics, estate and corrugated carton industries. The company also exports its products through its subsidiaries – Chemanex Exports and CAL Exports Lanka.
With an expansive storage space, Chemanex also possess a substantial delivery capacity. Furthermore, the company offers research and development work and takes pride in its global partnership encompassing Khao Japan, BASF, Sudarshan Chemicals India, Thai Wah Starch Thailand as well as Coventry Chemicals UK.
Expressing his thoughts, Chemanex PLC CEO Randeewa Malalasooriya said, "Our company provides specialty compounds and intermediates to the local industries. There has been a growing demand for construction solutions since 2009. This is one of the main reasons why we conducted a comprehensive study on the industry and identified gaps in the market.
We believe the partnership with Kao Industrial in Thailand will not only create a niche in the new market segment for Chemanex but also benefit the local construction chemical market with the introduction of high performance and superior quality products with global recognition."
Kao Corporation - Japan incorporated in 1940, is one of the most popular brands in Japan offering diverse products including chemicals, beauty care, fabric and home care as well as healthcare. With an employee count of nearly 7000 and a cumulative employee base of over 33000, Kao caters to the needs of general customers offering a wide spectrum of value-added services and solutions.
Sharing his views on the launching ceremony, Kao Industrial (Thailand) Co., Ltd Vice President and General Manager Hiroshi Sonohara noted that they have identified Sri Lanka as a viable market with promising growth in the construction industry.
"Kao Industrial products have been instrumental in the construction of several mega projects including Suvarnabhumi Airport in Bangkok – Thailand, Marina Bay Sands Hotel in Singapore, as well as in the BTS Skytrain in Bangkok – Thailand.
Elaborating further Sonohara added, "We have identified a high growth potential in the Sri Lankan construction industry and with our joint launch with Chemanex, we are introducing an admixture (MIGHTY) and special thickener (VISCOTOP) to the Sri Lankan market.