---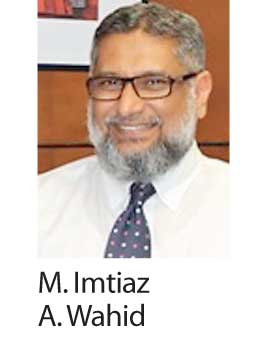 CT Holdings PLC (CTH) last Friday announced the appointment of M. Imtiaz A. Wahid as Non-Executive Non-Independent Director to its board of directors with effect from December 1, 2016.
Wahid is Managing Director of Cargills (Ceylon) PLC, part of the CTH group, a leading retail and FMCG firm in the country.

He is an Associate Member of the Institute of Chartered Accountants of Sri Lanka and a Fellow Member of the Chartered Institute of Management Accountant (UK).
Wahid has been involved in the operations of Cargills in an executive capacity at progressively higher levels spanning a period of 28 years, culminating in his appointment to his present position as Managing Director/Deputy CEO of Cargills in May 2010. He also has extensive overseas exposure, holding a number of senior management positions in overseas companies during his career. He is also a Director of Ceylon Theatres (Pvt.) Ltd, a subsidiary of CTH. Wahid led a defining transformation across the Cargills group having been part of the entity since the inception of the retail business and in the integration into food manufacturing and restaurants sector.

Commenting on his appointment, CT Holdings Chairman Louis Page said, "It is my great pleasure and privilege to welcome Wahid to the board of CTH. He has been a pillar of strength across all Cargills businesses providing a tremendous sense of assurance and confidence to all shareholders.
His well-grounded knowledge about every sector of the food industry from retailing to manufacturing and his hands-on approach to the operation with great attention to detail make him one of the most substantial yet silent contributors to the food industry of Sri Lanka. Well aligned with the vision of the founders, Wahid provides a pragmatic and current leadership to the corporate legacy of Cargills."