---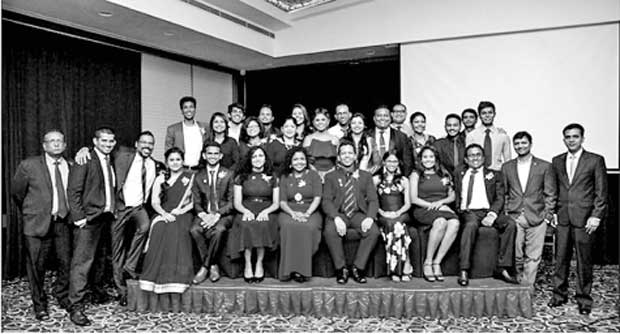 CIM Sri Lanka Toastmasters Club, one of the dynamic and vibrant clubs of the Toastmasters community, held its 09thClub Officer Installation Ceremony at the Global Towers Hotel, Colombo. The CIM Toastmasters Club was chartered in April 2009 and falls under the purview of the Chartered Institute of Marketing Sri Lanka.

Several distinguished invitees from the Chartered Institute of Marketing Sri Lanka and the Toastmasters fraternity were present to celebrate the occasion. Distinguished Toastmaster Ajantha Jayewardene who currently serves as the District Director for District 82 of Toastmasters International presided as the Chief Guest of the occasion and Sunesh Rodrigo was the Guest of Honour. He is the Deputy General Manager, Group Human Resources at MAS Holdings.

The elected office bearers for the Toastmaster year 2017/2018 are Ludmila Bopitiya, President; Ayesha Ratnayake, Vice President Education; Firha Osman, Vice President Membership; Nelaka Amarathunga , Vice President Public Relations; Abivarshanie Thirunavukkarasu , Treasurer; Jeewa Rubasinghe, Secretary; Dilshani De Silva Sergeant-at-Arms; and Oshan Liyanage, Immediate Past President. While congratulating the newly appointed club officers, Chief Guest Jayewardene stressed the importance of leveraging on the diversity of knowledge and experience within the club in order to take it to new heights.

The Guest of Honour Rodrigo commended the enormous contribution made by the CIM Toastmasters and the entire Toastmasters community in helping to bridge the gap in communication skills which he called the biggest challenge the corporate world faces in recruiting high quality people.

CIM Toastmasters was founded in 2009, by TM Dayan D.L. Fernando inspired by how important communication and leadership is for marketers in career development.

The Chartered Institute of Marketing Sri Lanka is the first international branch of the Chartered Institute of Marketing UK to launch a Toastmasters Club. Moreover, in its very first year, the club achieved 'Distinguished Club' status, under the leadership of Toastmaster Dayan D. L. Fernando, the Charter President. Since then, CIM Toastmasters Club has completed eight exciting years. The club is entering its ninth year with a new slogan: 'Fuelling Quality, Sparking Success' – a testament to its endeavor to provide a platform for its members to enhance their communication and
leadership skills.