---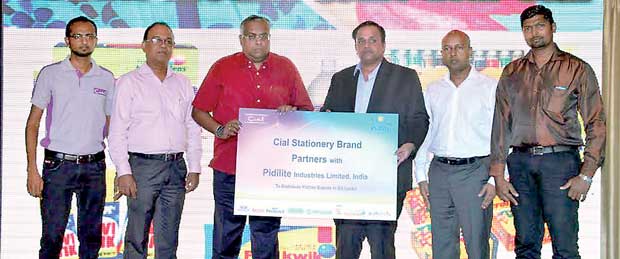 From left : Nisrin Ali – General Manager,Consumer, CIC Holdings PLC, W.S Premakumar –Divisional Director,Consumer and Health Care, CIC Holdings PLC,Samantha Ranatunga – CEO/Managing Director,CIC Holdings PLC, Swapnil Naik – Head of Exports, Pidilite Industries India, Nishantha Weerakoon – Group Finance Director, CIC Holdings PLC,Sampath Pinnawala – Business Development Manager, Pidilite Lanka
Cial,a renowned brand owned by CIC Holdings PLC recently partnered wit Pidilite Industries Limited India to distributethe Pidilite art &crafts product range through the Cial stationeryproduct distribution channel.
Cial is one of the key stationery brands in Sri Lanka manufactured and marketed by CIC Holdings which manufactures a range of stationery products including its flagship brand Platignum.
Pidilite is a leading adhesive producer in India which produces and markets high quality art &craft products worldwide with a strong global presence. Pidilite Industries Limited is the market leader in adhesives and sealants, construction chemicals & hobby colors in India.
Products of Pidilite Industries Limited have found good acceptance in international markets with exports to more than 50 countries. The export range of Pidilite's products meets stringent quality standards and have necessary approval from International Testing Agencies like ACMI, ITS and SGS.Fevicol- Premuim white glue range, Fevistick - a quality glue stick, Fevigum, Acron - the colour range of water colour and poster colour, Rangeela, Fevicryl - the acralyc colour range and Fevikwik and Fevigum are some of the reputed brands in their portofolio.This range includes a premium quality hobby range and almost all the products are market leaders in India
With the recent MOU signedwith CIC holdings PLC to manufacture adhesive products for Pidilite Lanka Private Limited whichis the local alliance underthe Chemifix brand name. CIC holdings has also partneredwithPidilite to distribute the art &craft range in Sri Lanka with their current brand portfolio.
"This partnership is highly valuable for both the companiesin orderto producehigh quality range of products at an affordableprice. The wide distribution network and marketexperience of CIC will help Pidlite brands to reach the Sri Lankan community. I'm confident that Pidilite products will be the natural choice of Sri Lankans with the help of the CIC brand." SaidSamantha Ranatunga – managing director/CEO, CIC Holdings PLC.
The new additions to the Cial portfolio round out CIC Holdings' offering, equipping customers with a broad range of tools to suit a plethora of writing and now craftneeds. Other products in CIC Holdings PLC's portfolio include the Cial pencil and colourpencil ranges, Platignum, Chemifix, Copy and Laserpaper, thusfulfilling a wide range of stationery needs of customers.