---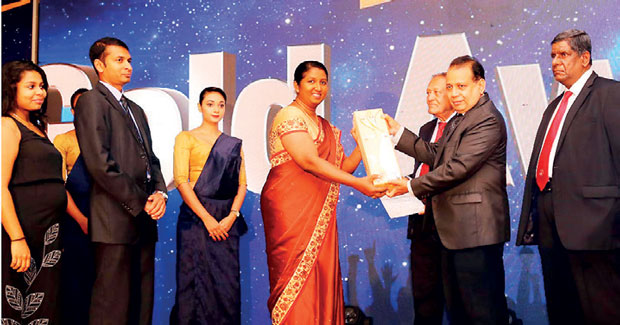 Continuing its unrelenting winning streak during 2017, Citizen's Development Business Finance (CDB) won yet another prestigious accolade at the SLITAD People Development Award, reemphasizing the prowess of its winning team.

CDB won a Gold at the 2016/17 awards which recognizes and rewards business entities that have human resource development as a fundamental in its business operations and have thus, proven unequivocal success due to this. Organized by the Sri Lanka Institute of Training and Development, CDB's continuous improvement in people development initiatives is well evidenced in its constant wins at these awards since 2013 when it won a bronze, a silver in 2014 and Gold in 2015.

"We have always espoused that our continuous success over more than two decades is due to our amazingly dynamic team," enthused MD/CEO Mahesh Nanayakkara. "We are a company that has been through numerous and diverse challenges. It is because of this extraordinary team that we are not only a multi-award winning corporate steward, but have also been named among the Top Seven NBFIs in the country in a highly competitive industry. These prove that our people development initiatives are apt for the times – they are contemporary, they are visionary and they are designed to maximize productivity and optimize excellence."

CDB's visionary focus on business continuity has always had people as its fundamental platform of sustainability and hence, its business strategy is one which instills HR training, development and management as the primary facet for success. Expands CDB Director/COO Roshan Abeygoonewardena, "Our entire Training Evaluation Model is aligned with our business strategy, into which we have included a number of unique training initiatives that ensure our team is always ahead. This is well augmented by our 'talent first' policy, which recognizes and rewards exceptional individual and team performance, motivating and inspiring our team to reach goals that are ambitious." He adds that holistic knowledge gathering remains the central axis to CDB's Learning and Development vision, which has seen CDB implement a unique e-learning management System modeled on a virtual university and a fully-fledged training center at its head office.

Having introduced systems and processes that will optimize learning and development to maximize talent, knowledge, skill and competencies, CDB has also been using a performance management system and performance based compensation mechanism to gain full credence to its HR mission. While well-entrenched personal development plans ensure that individual team members are empowered to reach their personal aspirations through appropriate learning and development programmes, the company's succession plan also gives them multiple avenues to further their career goals.

It is these that push boundaries for CDB's highly motivated team and rewards them with accolades presented by prestigious entities that include the Ceylon Chamber of Commerce, Sri Lanka Institute of Marketing, Brand Finance and the National Chamber of Commerce of Sri Lanka. "Our success stems from our committed and loyal team and these crowns exemplify that this is a team that's always ready to venture into new horizons and be trailblazers for the industry," concluded Nanayakkara.