---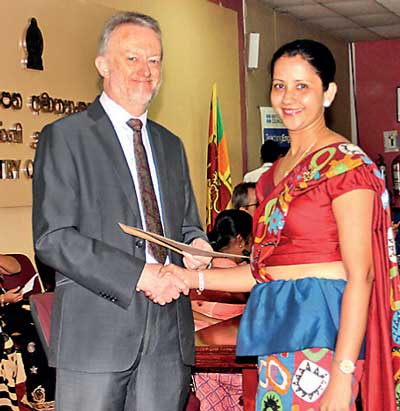 The annual Council for Business with Britain (CBB) Project English awards ceremony was held recently at the Education Ministry. At the event, 195 teachers across Sri Lanka were awarded the Teaching Knowledge Test (TKT) qualification offered by Cambridge English Language Assessment, having completed a distance teacher training course delivered by mentors in 29 Regional English Support Centres (RESCs) located around the country.

The event was graced by several dignitaries - Education Ministry Secretary Sunil Hettiarachchi, English and Foreign Language Branch Director Maheshi Weerasuriya, Deputy British High Commissioner to Sri Lanka Laura Davies, HSBC Sri Lanka and Maldives CEO Mark Prothero, British Council Sri Lanka Country Director Keith Davies, CBB Chairman and Hilton Colombo Residences General Manager Karim Schadlou and CBB ELT-Sub Committee Chairperson Tania Polonnowita.
A non-profit, non-political organisation focused on expanding bilateral trade links between Sri Lanka and the UK, the CBB pursues mutually beneficial business relationships for Sri Lanka and the UK. Organising regular events, CBB helps the business communities from these two countries to come together. The project was designed and is being managed by the British Council with HSBC as the principal sponsor.

The CBB-British Council Teacher Training programme started in 2006. The overall goal of the programme is to upgrade the English skills of pupils and this is achieved through improving the quality of the teaching practice in their schools. The project has trained a total of 57 mentors from the Education Ministry's Regional English Support Centres (RESCs) ensuring the project's wide geographical coverage across Sri Lanka. The mentors deliver in-service teacher training to teachers in their areas using a distance learning course, which leads to the internationally recognised qualification. The project has trained over 2000 teachers to date.