---
The Central Bank will soon initiate a full-scale investigation into the recent allegation made by Finance Minister, Ravi Karunanayake, that the Central Bank distributed Rs.13.0 billion worth of 5,000 rupee notes two days prior to the presidential election in 2015.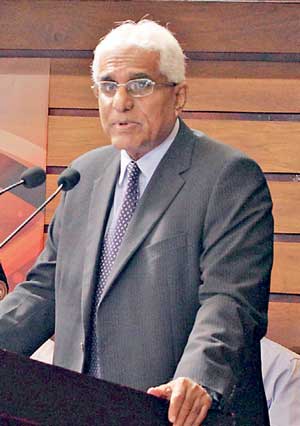 "We are expecting to initiate a full scale investigation on this allegation. There has been an inquiry in this regard," the Central Bank Governor, Dr. Indrajit Coomaraswamy told reporters in Colombo, last week.
When asked by a reporter whether cash reserves in the Central Bank shows any shortfall by a similar amount as repeatedly charged by Karunanayake, Dr. Coomaraswamy said there was no such evidence from the outset.
However, he added that they could not come to a conclusion without a full-scale probe on the charge, which they intend to begin shortly.
According to Karunanayake 5,000 rupee notes had been spirited out of the Central Bank two days prior to the 2015 presidential election to distribute among the people attending the propaganda rallies in support of the Mahinda Rajapaksa government. Last week, the Joint Opposition wrote to Dr. Coomaraswamy seeking authenticity of these charges levelled by Karunanayake. Despite the revelations by Karunanayake, he has so far failed to report his finding to the Cabinet, Parliament or the currency unit of the CID.
"If Rs.13.0 billion has been spirited out of the Central Bank and has been in circulation for the past two years, it will be the biggest currency-crime in the history of Sri Lanka," a letter signed by the Joint Opposition leader, MP Dinesh Gunawardana stated.
Karunanayake, particularly following the appointment of Dr. Coomaraswamy to the top post, has maintained that the Central Bank is politicized as the Rajapaksa cronies still hold office at the highest levels in the institution.
However, economists and civil society leaders have pointed out that certain section of the coalition government are making attempts to undermine the Governor of the Central Bank and to re-politicise the institution.
"Of course there are governing politicians who seek to undermine him (Dr.Coomaraswamy) and to eat away the Central Bank's authority and to re-politicise the Central Bank.
"And I think all those here and outside this room who want to see Sri Lanka has genuinely good, independent, competent public institutions should support the Central Bank Governor to the hilt," Razeen Sally, an Associate Professor at Lee Kuan Yew School of Public Policy at National University of Singapore said during a public seminar held in Colombo recently.