---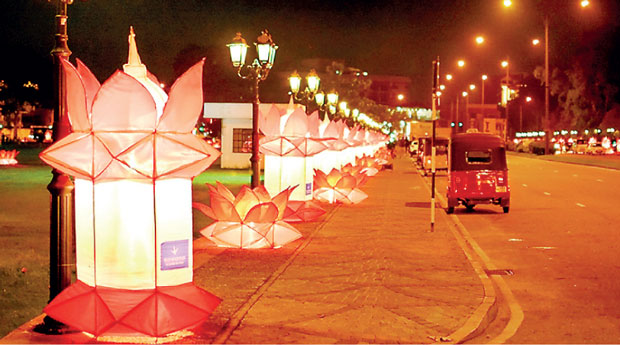 Blue Mountain erected lanterns to brighten up the streets of Colombo for Poson, earlier this week.
This initiative was carried out in collaboration with the Colombo Municipal Council to celebrate Poson Poya. Over 600 six-foot lanterns were placed in the forms of lotus flowers and stupas every six metres in and around the Town Hall area, to light up the streets and spread the joys of Poson. Like every other Poya day of the year, Sri Lankan Buddhists celebrate different aspects of Buddhism through various practices. Poson is specially regarded, like Vesak, because it represents the introduction of Buddhism to Sri Lanka.
Over 2000 years ago, the son of India's King Asoka, Arahat Mahinda, came to Sri Lanka and preached Sri Lanka's first Buddhist sermon to King Devanampiyatissa, which officially introduced Buddhism to our beautiful country. A major symbol during this event is Mihintale, the location where this historic event, locally known as 'Mahindagamanaya', took place. Blue Mountain also recently illuminated the UN Vesak Day, which was celebrated in Sri Lanka this year with the participation of Buddhist leaders from around the world.
The three-day celebration began on May 12 in Colombo and consisted of an International Buddhist Symposium with the participation of over 400 delegates from 100 countries. Indian Prime Minister Narendra Modi and Nepali President Bidya Devi Bhandari attended the UN Vesak Day celebrations.