---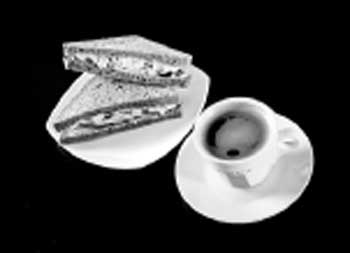 With over 12 outlets spread across the country, Barista has made its name as the largest international coffee chain in Sri Lanka. Having first been established in the year 2002, Barista is now at its peak within the café scene, with a growing number of coffeeholics patronising the fine Italian coffee served at their outlets. Each outlet spread out within the Colombo city limits and tourist hot spots around the country has its own unique offering and one of the latest outlets at the BIA has its own USP.
Located at the departure lounge of the airport, the Barista outlet at BIA now offers the 'best value meal'. You can get for just US $ 6, a cup of Barista's signature cappuccino and a mouth-watering sandwich – a satisfying quick meal before you take off the shores.

The outlet, just like all other outlets, will serve a wide range of coffee, which you can combine with any of the coffee companions available to complete your meal. Barista's outlets serve a variety of paninis and sandwiches on their menu along with sweet indulgences such as blueberry cheesecake, chocolate fudge cake and the signature Lavazza coffee cake.

The outlet also now serves limited edition Lavazza Coffee Cream by Barista for the first time in Sri Lanka, for those who wish to feel the festivities for a nominal rate of US $ 3. This is the first of many value additions at this outlet situated at the gateway to the nation.

Speaking on this novel offering Barista CEO Athula Yapa noted, "Since the recent renovation of the BIA, Sri Lanka's only international airport has become a busier place. Barista is offering a unique best value meal to anyone who has already enjoyed everything that Sri Lanka has to offer. It may also be a lasting memory of home before you head out of the nest or to find greener pastures. Food has a unique way of being nostalgic and this is what we want to offer."

Barista's strengths lie in the four main elements that it believes need to be at its best to serve excellent coffee: the coffee blend, machines, grinder and skilled baristas. Barista uses world-renowned Lavazza from Italy made from coffee beans collectively gathered from Indonesia, Central America and Brazil and roasted in Italy. High quality, Italian La Cimballi coffee machines and Cimballi grinders are used to brew the coffee.

This along with award-winning baristas who have obtained proper guidance and training before being given the responsibility of brewing your coffee makes the Barista experience a valuable one.

Barista has spread its reach across the island in convenient locations in Colombo such as the National Museum outlet near Nelum Pokuna, Laksala outlet at Thummulla, at the World Trade Centre, Bambalapitiya, Overseas School of Colombo, Rajagiriya and Nawala. Outside Colombo, Barista ensures its signature coffee and warm hospitality can be enjoyed at key holiday destinations such as at the Peradeniya Gardens, Ella, Unawatuna and Mirissa with guaranteed consistency.