---
Asian stocks ended the week with another rally yesterday on optimism that central banks globally will step up to support growth in the face of uncertainty caused by Britain's vote to quit the European Union.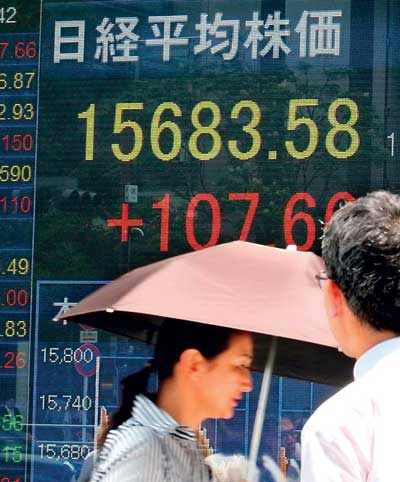 After the shock of the referendum result sent world markets into initial free fall last Friday, they have surged over the past week as authorities moved to soothe concerns another rout was imminent.
South Korea's promise of $17 billion in stimulus came as speculation swirled that Japan was planning to bolster its own multi-billion-dollar programme, while the chances of the US raising interest rates this year have all but evaporated.
On Thursday, Bank of England boss Mark Carney became the latest to provide assurances, indicating policymakers could embark on fresh monetary easing -- raising the possibility of a cut in rates.
Carney, who had urged Britain to vote to stay in the EU, said "the economic outlook has deteriorated and some monetary policy easing will likely be required over the summer", although he said there were limits to what the bank could do.
His comments sent the pound tumbling one percent to $1.3314 Thursday, having risen to $1.35 before his comments. Yesterday, in Asia it bought $1.3300, although it is well up from the 31-year-low $1.3121 at the start of the week.
London's FTSE surged 2.3 percent while New York's three main indexes piled on more than one percent.
Yesterday, Tokyo ended 0.7 percent higher despite data showing weak confidence among Japanese businesses in April-June, while consumer prices dropped for a third straight month in June.
Sense of urgency
Sydney added 0.3 percent and Seoul 0.9 percent. Shanghai climbed 0.1 percent, with dealers unmoved by figures showing China's manufacturing sector contracted last month.
In early European trade, London added 0.3 percent, Paris gained 0.5 percent and Frankfurt 0.6 percent.
"The mood for more easing is likely to spread around the world, and stock prices are headed up," Juichi Wako, a senior strategist with Nomura Securities Co, said.
"It's not to say that the crisis has now turned into a blessing, but the heightened sense of urgency among authorities will allow market-favourable policy responses to continue."
While markets are on the rise, analysts remain cautious about the long-term effects of Britain's exit from a four-decade partnership with one of the world's biggest trading blocs. Dealers are also keeping an eye on events in Britain, with its ruling Conservative Party in turmoil as it tries to find a successor to Prime Minister David Cameron in order to lead EU exit talks.
The International Monetary Fund described the Brexit as a major threat to world growth and Standard & Poor's cut its credit rating for the EU by one notch to AA, its third highest level. "Markets are reacting positively to the supportive interest rate environment," Chris Green, director of economics and strategy at First NZ Capital Group Ltd. in Auckland, told Bloomberg News.
But he added: "With interest rates remaining low for longer, the concern is what policy options are left for central banks if we see an even softer patch for the global