---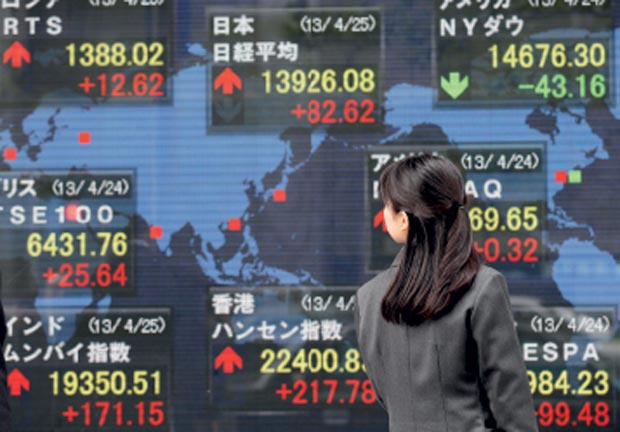 AFP: Asian markets turned lower yesterday as investors cashed in at the end of a mostly positive week while the dollar weakened against its main peers with analysts questioning the chances of a third US interest rate hike this year.

Adding to the selling pressure were renewed geopolitical worries after North Korea said it might consider testing a hydrogen bomb in the Pacific.

Global equities tracked broadly higher over the past five days on easing geopolitical tensions and Wall Street notched up several records, while the greenback soared on a hawkish Federal Reserve meeting. However, dealers headed in to the weekend a little subdued after New York's main indexes fell, while a second downgrade of China's debt rating Thursday also added to the negative feeling. The agency also slashed Hong Kong's prime AAA rating Friday.

Hong Kong slipped 0.7 percent in the afternoon and Shanghai ended 0.2 percent off, while Seoul lost 0.7 percent. Tokyo was 0.3 percent lower, snapping a four-day winning streak, but Sydney edged up 0.5 percent.

In early European trade London and Frankfurt each fell 0.2 percent but Paris rose 0.2 percent.
There was a sense of worry after North Korean Foreign Minister Ri Yong-ho told reporters Pyongyang might now consider detonating a hydrogen bomb in the Pacific.

"I think that it could be an H-bomb test at an unprecedented level perhaps over the Pacific," he said but added: "It is up to our leader so I do not know well."

The report comes after Kim Jong-Un called Donald Trump "mentally deranged" and said he would make the tycoon "pay dearly" for threatening to destroy his country during the US president's United Nations speech this week. The outburst came hours after the US unveiled new tougher sanctions over Pyongyang's nuclear programme.

The comments revived the stand-off between the US and North Korea earlier in the month after the North tested a nuclear bomb and ratcheted up tensions in the region.

The dollar slid back after recent gains against the yen, pound and euro. The greenback rallied after the Fed on Wednesday announced a timetable to wind up its huge bond-buying stimulus programme and hinted at a third rate hike this year by December. Greg McKenna, chief market strategist at AxiTrader, said there was scepticism that the central bank will be able to lift borrowing costs again this year at the same time as tapering its stimulus, which was put in place during the global financial crisis to keep long-term rates down.
Okasan Online Securities' senior strategist Rikiya Takebe added that the "possibility of a hydrogen bomb test by North Korea's 'rocket man' prompted risk-off sentiment" in the currency market.

Investors will be keeping an eye on speeches this weekend by top Fed officials hoping they will give some clues about the Central Bank's thoughts on interest rates.

Also, eyes will be on Vienna, where oil giants inside and outside OPEC are due to meet and are expected to discuss an ongoing production cut, with some market-watchers suggesting it could be extended.

Shares in firms linked to Apple were also dented after the US titan was hit by tepid reviews for the new Watch Series 3, while there was very little enthusiasm for its new iPhone 8, which went on sale yesterday.

The huge queues that have greeted past incarnations of the handset were notably missing around Asia, with fans possibly staying away until the release of the much-hyped iPhone X next month.
Japan Display fell 2.4 percent and Alps Electronic was off 2.8 percent in Tokyo, while in Taipei TSMC was down more than one percent. AAC Technologies in Hong Kong shed almost three percent.