---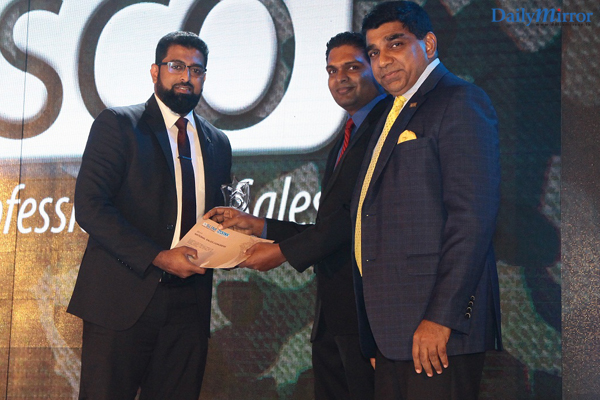 Hamdi Nizam of Amãna Takaful's insurance team won a Front Liner Bronze Award in the Life Insurers' category.
Amãna Takaful Life PLC (ATL Life) was recognized for their sales professionalism at the recently concluded SLIM-NASCO 2017 awards. Hamdi Nizam of Amãna Takaful's insurance team won a Front Liner Bronze Award in the highly-competitive 'Life Insurers' category.
The Sri Lanka Institute of Marketing (SLIM) hosts the National Sales Congress annually, where the NASCO Awards are a sough-after recognition within the sales and marketing sectors in Sri Lanka. The SLIM-NASCO Awards are a recognition of the highest standards of sales professionalism, including customer service and care. The Front Liner awards are given to sales personnel who are in the field and who engage with customers on a daily basis.
"We are delighted to see a member of our sales team receive a SLIM-NASCO award," said Gehan Rajapakse, CEO, Amãna TakafulLife PLC. "Hamdi's award win is recognition of both his personal achievements in sales and also a reflection of the standards of excellence we strive for each day in the Amãna Takaful insurance team. The Takaful philosophy is driven by the need to care for and nurture community, and our focus is on the care and protection of our customers, which comes through in every insurance product we have and also through each member of our team."
The SLIM-NASCO Awards seek to bring national recognition to sales professionals who are excelling in performance and raising the bar within their sectors – those whom experts within the marketing industry consider "Sales Champions". Held for the ninth consecutive year, the SLIM-NASCO Awards are awarded in 15 selected business sectors and is the only national-level event to recognize and reward the country's sales professionals.
ATL continues to be in the forefront of the insurance industry in Sri Lanka and caters to all segments of customers. The Takaful way of insurance operates on the concept of bringing people together to be part of a system that gives them the opportunity to help each other. Since its inception over 18 years ago, Amãna Takaful PLC been successful in establishing a strong position for the concept of Takaful amidst stiff competition from established conventional players. One of the few ISO-certified insurance providers in Sri Lanka, ATL operates with 27 branches and is set to expand further to better serve customers across the country. ATL continuously reaches out to customers from all segments of society and offers innovative and state-of-the-art insurance products that are convenient, affordable and reliable. As part of its commitment to remain 'open to all', ATL serves all communities and employs a multi-ethnic team across its network.