---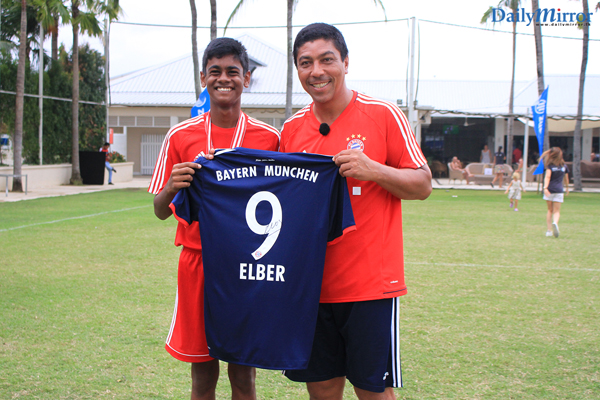 Brazilian & Bayern Munich Legend Giovane Elber handing over the jersey to Jehan Atapaththtu of Sri Lanka for winning the chance to undergo special training at the Aspire Academy
The annual Allianz Junior Football Camp concluded recently in Bali, Indonesia with great fanfare. The four day programme is a much looked forward to event with exciting training sessions led by FC Bayern legends Klaus Augenthaler and Giovane Elber. Hence competition to attend the camp is fierce with thousands of school children between the ages of 14 and 16 from China, Malaysia, Indonesia, Laos, Philippines, Sri Lanka, Singapore, and Thailand vying for the opportunity. From Sri Lanka Jehan Atapaththu of S. Thomas' College, Mount Lavinia and Chamanth Kodithuwakku of Nalanda College were able to secure spots.
In addition, Jehan Atapaththu was also awarded the Good Sportsmanship Award. This will give him the opportunity to undergo one week of football training at the prestigious Aspire Academy in Doha, Qatar. He beat out 48 other candidates to win the chance to attend.
Jehan won this opportunity by embodying the principles of good sportsmanship both on and off the field during his time at AJFC Asia. The selection committee believed he showed compassion, respect, love, enlightenment, balance, and joy during his time at the camp and that these qualities complemented his already exceptional skills on the field.
"The Allianz Junior Football Camp Asia gives participants from 8 different countries the chance to train like professionals in a once in a lifetime opportunity. They gain invaluable experience both on and off the field that they will carry with them through the rest of their lives. Allianz is proud to be a part of this adventure and help shape their future. And we congratulate Jehan on winning the Good Sportsmanship Award and continuing to pursue his dream at the Aspire Academy," said Surekha Alles, Chief Executive Officer - Allianz Lanka.
The Aspire Academy is an internationally renowned institution for sports excellence catering comprehensive programs for sports education and revolutionary sporting facilities of international calibre.
"We congratulate Jehan on winning the Good Sportsmanship Award and we are looking forward to welcoming him to Aspire Academy. During his week at the Academy he will have the opportunity to join the training sessions of one of our football teams, he will undergo football performance testing and will have the chance to discuss possible areas of improvement with our top coaches. Besides that, he will have time to explore Doha and get to know the Qatari culture better," says Markus Egger, Director of Sport and Strategy at Aspire Academy.
Allianz Insurance Lanka Ltd. and Allianz Life Insurance Lanka Ltd., known together as Allianz Lanka, are fully-owned subsidiaries of Allianz SE, a world leader in integrated financial services. Having started out as a Greenfield operation in 2005, it has emerged as one of the fastest growing insurance service providers in the country. The company prides on supporting its clients' business strategy by understanding their risk profile and needs, and providing individual solutions from its world class portfolio of products and services. Around the world, over 140,000 Allianz employees serve some 86.3 million retail and corporate customers in about 70 countries, who place their trust on the knowledge, global presence, financial strength and solidity of Allianz to support them in their moment of truth.