---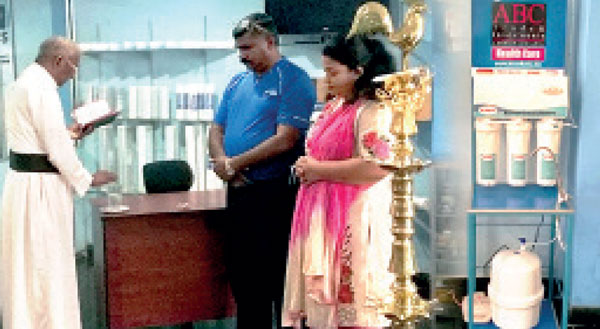 The relocated Anuradhapura showroom of ABC Trade and Investments (Pvt.) Limited was ceremonially opened at No: 561/59, First Lane, Mahajanapola Road (adjoining Ashoka Furnishers) recently.
The opening of this modern facility took place at the auspicious time under the patronage of ABC Trade and Investments (Pvt) Limited Managing Director/Chief Executive Officer A. Jayaseelan and his wife and a host of distinguished guests.
Incorporated in 1997, ABC Trade and Investments (Pvt.) Limited has since diversified and grown into a key player in the spheres of information technology (IT), water purification, tourism, plantations and electrical lighting systems.

Amongst the company's portfolio of globally renowned brands are Verbatim and Cleansui products from the Mitsubishi Company of Japan, Maxell products from Hitachi, Japan, Pure Aqua and Paragon Water Purification Systems from the USA and similar equipment manufactured by M-Tec, a leading producer in this sector based in China, Kodak and HP Inkjet Photopapers, HP Printers and Print-Rite Printer Consumables.

Expressing his views on the occasion, Jayaseelan said, "We operated our Anuradhapura showroom for more than three years at a location opposite the Cinestar Cinema. With a surge in sales and a significant growth of our business coupled with customer demand for a more central, easily-accessible and more spacious location, I decided to relocate the showroom for greater convenience.
"All IT-related products, water purifiers especially designed for domestic households, small-scale industries and other industrial workshops and factories can be purchased from this showroom in any size, together with water purification equipment and spares at competitive prices in the market.
"Services relating to any type of water purification systems and re-flushing RO membranes using the correct technology are also undertaken at this new facility.

"The experienced, efficient and friendly staff in all our showrooms, including Anuradhapura, Padavi Sripura and Hingurakgoda, is deeply dedicated to ensure customer satisfaction through a superior service at all times."
The one-stop-shop for all water purification needs in Anuradhapura is ABC Trade and Investments (Pvt.) Limited.