---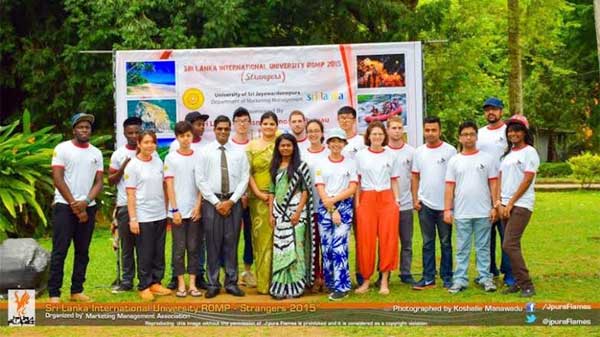 The Sri Lanka International University Romp-2015 organized by the Department of Marketing Management of university of Sri Jayewardenepura in collaboration with Sri Lanka Tourism Promotion Bureau was successfully held on 11th and 12th June within the city limits of Colombo and Kithulgala.
On 11th June the opening ceremony of SLIUR-2015 was commenced at the University premises marked by several distinguish personals from University and Corporate world. Over 100 participants were witnessed in the ceremony representing local and foreign universities with great enthusiasm and passion. The ceremony was sparkled by the presence of star pals in Sri Lanka who encouraged the participants throughout the ceremony. Every team name entailed the significance of Sri Lankan culture and beauty. Ceremony was winded up by providing the first clue for every team at the outset of the city romp.
Bringing a whole new experience for the participants of SLIUR-2015 on the very first day of the mysterious journey, the city romp was taken place within the metro city areas of Colombo, Pettah and Colombo fort. Hard yet challenging tasks were successfully completed by all the ten teams with much eagerness and they all had something to take into their lives as well. The second day of the program commenced at the beautiful and picturesque Kithulagala adventure based camp. White water rafting brought a thrilling experience for every participant who took part in this adventured event.
Since every beginning has an end, the mysterious journey of excitement SLIUR-2015 Strangers was concluded by an extravagant awarding night held at Rivinka Greenside Hotel Homagama with the honor of the chief guest Mr. Milanka Gajanayake, the Managing Director of Sri Lanka Tourism and Promotion Bureau and several other distinguish guests. The awarding ceremony was filled with several entertainment items by the students of Marketing Management Association, which added glamour to the evening. All the participants were awarded for their dedication, team spirit and participation. "Nallur Rio Lovers" stole the whole evening by being the champions of Sri Lanka International University Romp -2015 "Strangers" and was awarded by the chief guest of the evening Mr. Milanka Gajanayake thus marking the end point of the mysterious journey. But we believe that this end will lead us a new beginning in near future.