---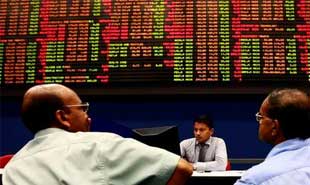 The political games taking place in the country seem to have created a sense of panic in the minds of some investors in the Colombo Stock Exchange, which should not be the case, according to top brokers, who seem to be largely unconcerned about the proceedings."Various unconfirmed crossover stories have scared off retail investors but we still see a foreign inflow into the fundamentally strong stocks. We expect the market to rebound soon," Capital Trust Securities CEO and MD Tushan Wickramasinghe said.

The main All-Share Price Index, which opened on 7,530 and closed on 7,401 last Friday, closed further down on 7,235 yesterday.Colombo Stock Brokers Association Chairman and Softlogic Stockbrokers CEO Dihan Dedigama said that the uncertainty of the political sphere has been the biggest influence on the situation and added that a statement of economic policies by the opposition's common candidate could help the situation."We've seen how much the market gained this year under the current political and economic environment, so it is the other side which has to make a statement," he said.

Meanwhile, according to Acuity Stockbrokers Executive Deputy Chairman Deva Ellepola, policies of both parties in the past have been investor friendly from t he stock market's point of view and said that in his opinion, a change in regime will not affect the market significantly.
"I feel it should bounce back, I see no reason for panic," he said and added that most investors are still sitting on profits.

However, he also reasoned that since the market was in its second highest position since 2011, some people may have seen an opportunity for profitmaking and coupled with the political situation, may have sold their stocks.Candor Equities CEO RaviAbeysuriya said that these stocks sold by retail investors only create jitters and are being bought over by high-net-worth investors who see their worth in the long run."The macroeconomic indicators show there's much more room for growth. This is a time for buying," he said, based on the strong growth rates, dividends and the growth of credit.He also expressed sentiments that any change i n t he country's rule will have miniscule impact on the functioning of the stock market.