---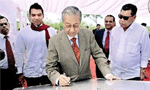 The 'New City Apartments' residential project by Quest Ventures was launched in Hambantota yesterday, by former Malaysian Prime Minister Dr. Mahathir Mohamad.

The project is scheduled for completion i n 36 months and is valued at US $ 36 million. It will include a shopping centre, gym facility, swimming pool and 24-hour security surveillance.The venture is a BOI approved project that is part of the long-term development plan for the new city of Hambantota, which is being transformed into an economic and tourist hub.

Quest Ventures is a subsidiary of the Maju Group, a leading Malaysian conglomerate t hat invests in real estate developments across Sri Lanka.
The project is designed by renowned architect Murad Ismail.At the event, the project was launched with a ribbon cutting ceremony followed by the unveiling of t he project's show-house. Thereafter Dr. Mahathir Mohamad, signed a commemorative plaque to officially launch the project.

The event was also attended by MP Namal Rajapaksa, Maju Group Executive Chairman Tan Sri Abu Sahid Mohamed, and renowned Malaysian developer Datuk Patrick Lim.Commenting on the launch of the project, Dr. Mahathir Mohamad said, "Hambantota is an up- andcoming hub in Sri Lanka with an extremely strategic location, the area is undergoing rapid development and there is a high demand for housing in Hambantota.

"Sri Lanka and Malaysia have enjoyed a strong relationship that has lasted for decades and proved to be mutually beneficial for both countries. The government of Sri Lanka has created extremely favourable conditions for foreign investment and I look forward to working with the Board of Investment on future projects in Sri Lanka."The Hambantota district has a strategic geographic location that serves as an ideal naval, aviation and commercial base in the South of Sri Lanka.

As Hambantota's new industries develop, the area is fast becoming a thriving metropolis. This new development is expected to meet the need for housing in the area by providing a safe and exclusive residential complex in a central location in Hambantota.Hambantota is also located in close proximity to key tourist locations such as Yala National Park, Nuwara Eliya, Arugam Bay and Galle, and is also just four and a half hours away from Colombo.Quest Ventures is part of The Malaysian owned Maju Group of Companies, which has been in business since 1977.UnderthestewardshipofTanSriAbuSahidMohamed,MajuGroup has become a dynamic and diversified conglomerate that was founded on the principles of quality, reliability and punctuality in product delivery.