---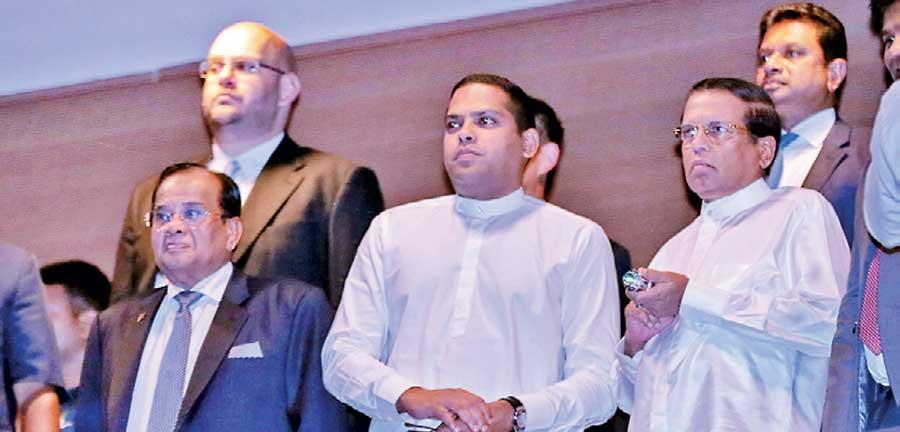 President Maithripala Sirisena using laser technology to officially launch the 'National Digital Roadmap'. Also in the picture are Telecommunication, Foreign Employment and Sports Minister Harin Fernando and Western Province Governor A.J.M. Muzammil
Pix by Damith Wickramasinghe
By Harshana Sellahewa
Sri Lanka's national telecommunication provider Sri Lanka Telecom (SLT) and national mobile service provider Mobitel yesterday launched the 'National Digital Roadmap', marking a big step in the overall digitisation of national services and traditional physical-effort requiring practices within the island.
The occasion was graced by the presence of Telecommunication, Foreign Employment and Sports Minister Harin Fernando, Digital Infrastructure and Information Technology Minister Ajith P. Perera, Western Province Governor A.J.M. Muzammil, President Maithripala Sirisena, SLT Group Chairman P.G. Kumarasinghe Sirisena, dignitaries including heads and staff from SLT and other distinguished guests.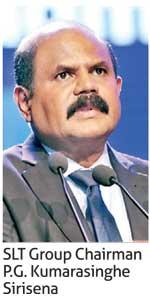 The 'National Digital Roadmap' was officially launched by President Maithripala Sirisena at the ceremony which was held at the Nelum Pokuna Mahinda Rajapaksa Theatre.
Speaking at the event, SLT Group Chairman P.G. Kumarasinghe Sirisena expressed his gratitude to those present at the launch of the National Digital Roadmap through the 'Limitless You' initiative.
"This event is organised to align the 21.4 million population, 11.5 million customers served by us and our workforce team numbering over 10,500 properly aligned to this national cause, unleashing their fullest potential under this 'Aseemitha Oba' initiative launched here, simultaneously witnessed in 20 regions across the entire country," he said.
According to Kumarasinghe Sirisena, the government digital transformation initiative "2020 Digital Sri Lanka" or "Smart Sri Lanka" aims to transform the country towards a creative knowledge-based society through digitally-empowered citizens, in order to be the digital hub in the South Asian region.
The blueprint for integrated national digitisation was presented through a comprehensive multi-faceted nexus of 16 pillars representing areas such as Smart Government, Smart Security, Smart Health, Smart Transportation and Mobility, and more, covering all aspects and processes of the nation's socio-economic, infrastructural and administrative operations.
Further, the occasion inaugurated the 'Limitless You' programme devised to consolidate the smooth transition of Sri Lanka's transformation as a fully-digitised nation, cementing SLT's primacy as the country's industry leader in the Digital Age, and nurturing the maturation of employees, customers and citizens in general as sophisticated members of a highly developed and technologically-advanced society.
"This means globally connecting the entire population to the vast knowledge base of advanced technology, offering new opportunities, keeping pace with rapidly evolving technology," Kumarasinghe Sirisena said.
He further went on to say that SLT has contributed over Rs.100 billion to the national economy during the past five years and has invested over Rs.50 billion in employee capital.
"We are the National Backbone Network (NBN), and have laid the Local Government Network (LGN) of more than 45,000 kilometres of fibre optics, and hundreds of thousands of kilometres of copper network covering the entire island, providing 4G LTE," he added.