---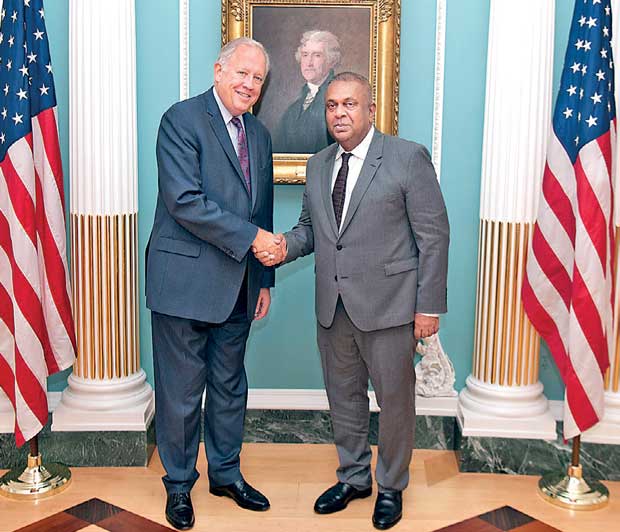 Finance and Mass Media Minister Mangala Samaraweera with US Under Secretary for Political Affairs Ambassador Thomas Shannon
Finance and Mass Media Minister Mangala Samaraweera, who is currently in Washington to attend the World Bank/International Monetary Fund annual meeting, met with US Under Secretary for Political Affairs Ambassador Thomas Shannon at the US State Department.
Shannon will visit Sri Lanka in November 2017 to take part in the next round of the US/Sri Lanka Partnership Dialogue, which was inaugurated in 2016 when Samaraweera was the Foreign Affairs Minister, for a regular policy consultation designed to discuss and identify opportunities for cooperation across the full range of bilateral and
regional issues.

The Partnership Dialogue demonstrates the consolidation of cooperation between the United States and Sri Lanka and serves to further strengthen and enhance bilateral relations in the widest sense, through regular and structured engagement. Samaraweera was accompanied by Finance Ministry Senior Adviser Mano Tittawella, Charge d' Affaires of the Sri Lanka Embassy in USA, Prof. Gamini B. Keerawella and Priyanga Wickramasinghe of the Sri Lankan Embassy in the USA.