---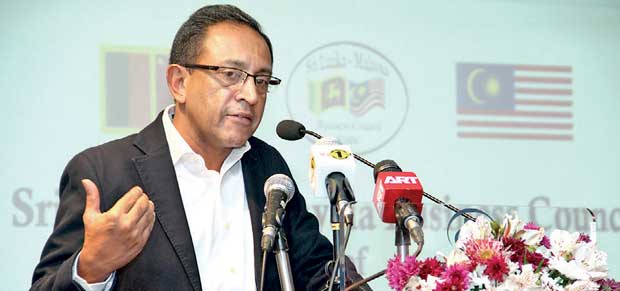 By Chandeepa Wettasinghe
The national carrier, SriLankan Airlines, which has been experiencing massive turbulences lately, has attracted interest from two international airlines and two regional airlines, a top minister in the coalition government said.
"Japan Airlines has shown some interest. Emirates has been talking to us. AirAsia has spoken to us. Last week they were to come to see me. They asked for an appointment but they have changed the time. IndiGo is also interested," Public Enterprise Development Minister Kabir Hashim said.
He was speaking yesterday at a breakfast meeting on public-private partnerships (PPPs) organised by the Sri Lanka-Malaysia Business Council of the Ceylon Chamber of Commerce.
The government, in the latter part of last year, called for expressions of interest (EoIs) from international parties for a PPP with the debt-ridden SriLankan in a bid to cut down the burden created by the airline to the country's finances.
But it appears that the parties who showed interest were not to the liking of the government. Hashim's co-pilot, Public Enterprise Development Deputy Minister Eran Wickramaratne, last month told Mirror Business that the government had decided not to go for a second round of EoIs but instead would be directly marketing SriLankan to global airlines and that discussions were at initial stages with some players.
Hashim yesterday said that the government has given the four new airlines until May to express their level of interest. Prime Minister Ranil Wickremesinghe earlier had said that SriLankan would have a partner by April.
"But even when they show interest, it doesn't mean much, because when they come and look at our books and think this is a no-go, they will go off. So, we are not thinking they're going to take it, but it at least shows that they are interested in us, that there are players in the market thinking that SriLankan has potential," he said.
The government is looking to sell 49 percent of SriLankan shares to a partner, who would have completed management control of the airline with one or two board seats to be held by the government, Hashim said.
US-based global investment giant Texas Pacific Group (TPG), which has investments in Sri Lankan listed entities, became the final candidate that qualified through the first EoI selection process set by the government. However, the government doesn't appear confident in the final selection.
"TPG is not an airline company. So, maybe we might lose the identity of the airline. So, we will take the best option for the country," Hashim said.
He added that TPG may not present the government with a favourable offer as well.
"We have given them (TPG) the option to do due diligence and give their offer. We may not be happy with that offer, so we are not compelled to take their offer," he said.
Wickramaratne had said that even if TPG provides a favourable financing offer, the government may have to find a third party to manage the airline, given TPG's lack of airline management experience.
SriLankan has been running at a loss since former President Mahinda Rajapaksa kicked Emirates out of a similar partnership arrangement to the one sought now in 2009 over personal reasons and appointed his brother-in-law as the head, during whose tenure, the airline was scandal-ridden and grossly mismanaged.
Even with the change of government and low oil prices, the new top management, appointed by the prime minister, only managed to cut down net losses to Rs.12.08 billion in 2016, down from Rs.16.33 billion year-on-year.
The accumulated losses were Rs.135.59 billion and the liabilities were Rs.95.07 billion, of which Rs.67.60 billion bore interest. Mihin Air, which was merged with SriLankan last year, has incurred losses exceeding Rs.15 billion.